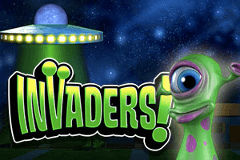 Created by Betsoft, Invaders is an alien-inspired slot game, which is perhaps not going to be that surprising to you. As it's created by this cool team, you would be quite right to predict that it will include some amazing graphics and smooth gameplay, but is there anything else that's going to stand out with this slot?
Overview of Invaders
The theme of this game is going to be pretty self-explanatory. Invaders have 5 reels and offer a total of 20 different paylines. Also, the reels contain various alien characters to continue to add to the overall feel. The graphics themselves are what you would expect from Betsoft, a premier slot maker.
How to Play Invaders
Playing the game shouldn't be a problem for anybody used to slots, or even beginners. Begin by selecting your coin size by clicking on the relevant buttons to change the value. Next, select the bet line value by doing the same with the buttons. Also, remember to select the number of lines you want to play with as all of this will change the size of the bet that you are then placing. After doing this, you are ready to spin, and hopefully win.
Bonus Features for Invaders
This game has both wilds and scatters, with both capable of adding significantly to your enjoyment of the game, while also boosting the chances of landing some winning lines. The first thing to know is that the newspaper symbol acts as the wild. This is going to take other symbols on the reels and change them, with this then boosting your chances of having some winning paylines.
Invaders do have two scatters with both the meteor and the house with a spaceship being the key symbol. Land two meteor symbols and win 250 credits. Land three or more house symbols and activate the bonus game. With this bonus, you choose three houses and will then be able to get away with the gold contained inside. It's a cool little addition and certainly differentiates this bonus game from most.
Betting and Payouts Invaders
This game allows you to bet up to 5 coins per line, which means a maximum bet of $100 if you bring all 20 paylines into action. However, lower bets are definitely available. For payouts, they are often quite small in size, but you could win up to 7000 coins if you hit the jackpot on the maximum bet. On the plus side, this game does have a 97% RTP, and that is higher than you should expect to see in most slots, as well as specifically in other Betsoft slots.
Overall, this game is a bit hit and miss. On the one hand, the graphics and gameplay seem fine and are what you would expect, and the bonus game is a nice addition, but the lower payouts are a disappointment. In saying that, with 20 paylines and a low minimum bet allowed, it may be a good introduction to slots, especially for those just looking to stay around even. It may not be the right choice for the more experienced high-rollers out there.