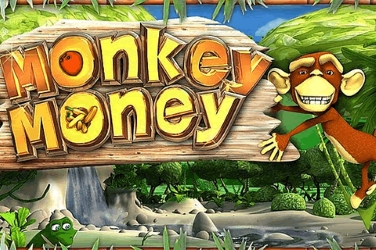 Monkey Money is a fun-filled classic slot game that incorporates the basic 3 reel approach into its gameplay. With a focus on fun graphics, the game itself may not come with all of the more modern style features, but that's not something that should distract you from having a go and finding out what those good old days of slot games were really like.
Overview of Monkey Money
The game itself is basic with those 3 reels and only one payline. Also, the symbols are also quite simplistic with a heavy reliance on bananas of various quantities. You will also quickly notice that there are very few features, bonuses, or anything else that usually contributes to the game itself. In other words, this game is stripped back to its bare bones with just the theme hanging onto it.
How to Play Monkey Money
The thing that strikes you when it comes to the playing aspect is that it's fast-paced. Yes, there are only 3 reels and one payline, but you win for bananas appearing which is more fun than it sounds. Place your bet, hit the spin button, and then wait to see if you are lucky. Once again, this is all that exists on this game which does, in a sense, make a refreshing change compared to other video slots with multiple paylines to think about when betting and playing.
Bonus Features for Monkey Money
As we mentioned previously, this game is basic, so if you were hoping for some monkey based bonus features, then sorry to disappoint. There are no wilds available as well as no scatter symbols. This means there are no free spins and no bonuses to speak of.
Betting and Payouts for Monkey Money
The area where this game really does surprise is with the betting and payouts as you would have expected the payouts to be quite low considering the lack of features in the game. With this, you can bet anywhere from $0.20 to $50 and as it's only covering the one single line, then you know your exact bet in advance. Also, it means there's no way of being caught out and betting more than you initially thought.
However, the payout is pretty cool especially if you land 3 monkey symbols together. If you do, then you stand to win 900x your stake and that accounts for an impressive amount of cash if you have been betting on the higher end of the scale. Even if you land 3 wooden shafts it means you receive 400x while it continues to drop through different variations of bananas.
Overall, the thing to love about this game is its simple approach to slot games. There's nothing fancy or elaborate to be seen here, but it is still a whole lot of fun to play. The game is fast and you can easily spend a crazy amount of time here if you are willing to give it a chance. Yes, it could have done with some free spins, but perhaps we find ourselves being spoilt for choice with features elsewhere making this a refreshing change from the norm.