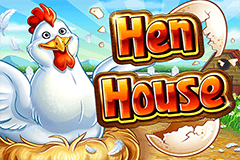 Hen House is a slot game developed by RTG, and you have probably already guessed as to the theme that dominates this particular game. Filled with bright and bold graphics, it does offer the promise of some pretty impressive payouts, and there's a lot to know about the game before playing.
Overview of Hen House
This game comes with 5×3 reels and it also offers you a total of 25 different paylines. The reels are set against a countryside and farmyard backdrop while the graphics are bright and well-produced giving a sense of smoothness to the entire game. The symbols on the reels are represented by various farm animals as well as hay, seeds, and even boots.
How to Play Hen House
RTG has included only a couple of steps for you to go through in order to play the game. The first thing is to select the size of your bet and this is achieved by clicking either up or down beside the bet button. Once you are happy with the coin size, you can then do the same thing for the number of paylines that will be brought into play. Do remember that this is going to have an impact on the amount of money you spend per spin, as that initial coin is going to be multiplied by the number of lines. However, they do make it clear as to your total bet.
Bonus Features for Hen House
The bonus game for Hen House is triggered by landing three scatter symbols which, in this instance, is represented by an egg. When this happens, it opens up a bonus game where you get to choose from 9 different hens. Pick a winning egg, as opposed to a rotten one, and you end up winning some free spins. While it might only be a small bonus game, there is something quite nice about it.
Also, the hen symbol acts as the wild and landing several of those across the reels, If they land on reels 2, 3, or 4, means they turn into other symbols into hens to boost your chances of landing on some winning lines.
Betting and Payouts for Hen House
So, what about the bet ranges? In this instance, the bet range is between $0.01 and $1, but then you have to multiply that by the lines. In other words, it means your bet could be as little as $0.25 or as high as $25. Even then, that is still lower than the maximum on a number of other games. For the payouts, if you land the wilds, multipliers, and everything else, then you could win 50,000X your bet, which is rather impressive, but exceptionally rare. The odds of that happening are clearly small, but other payouts are still reasonable compared to the size of your bet.
In short, Hen House is a bright slot game full of fun with cool graphics that you will love. The bet size is perfectly adequate, and the money you could earn from this does make it a game that is well worth checking out.