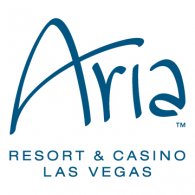 Established In: 2009
Former Names: None
Owner: MGM Resorts
Number of Rooms: 4,004
Location: Central Las Vegas Boulevard, south of Bellagio
With each passing year, Las Vegas becomes a more competitive landscape for resort operators. It seems like every year, there are new attractions, renovations, and brand new resort to content with. With every new design comes a twist, so when the City center project was announced, it seemed to have the casino resort as only a minor piece of the puzzle. The Aria Resort and Casino is by no means an afterthought, more the centerpiece of this incredible property.
A brief history of Aria Resort and Casino
Aria comes to us from the minds of MGM Resorts, who were looking to do something with a huge plot of land they owned south of the Bellagio. The former site of the Boardwalk Casino, that property, along with surrounding ones, were demolished to may way for CityCenter, which was meant to be an all-encompassing retail, hotel, and condominium project. There are a whopping 4,004 hotel rooms and suites in the hotel itself.
Aria opened in 2009, making it one of the more recent reports to have opened newly on the Las Vegas Strip. This can be seen in the design of the resort, as there is more space than you might find in an older property that has been renovated. As the project costs were skyrocketing, MGM took on a 50% investor in Inifinity World Holdings in exchange for $2.7 Billion. MGM is still the operator of the hotel and casino.
Gaming at Aria Resort and Casino
If you are looking for a large space where you won't be feeling overcrowded by people when you gamble, then you should look no further then Aria. A casino floor that covers a sprawling 150,000 square feet makes Aria's casino one of the largest in Las Vegas. On this floor, you will find all the top slot games, from the ones with the biggest progressive jackpots to the ones with the most entertaining bonus rounds. In total, there are 2,000 slot machines on the floor, which gives players loads of space between banks of machines to wander around. There are also 150 tables set up in the casino for fans of cards and dice games. This means you are likely going to be able to find an open seat almost anytime day or night.
There is also a spectacular poker room at Aria, which boasts 24 tables available for cash games and tournaments. The room was built to attract the top names in poker, and Aria has done that, hosting some of the biggest cash games and tournaments in the world at the resort.
Top 3 Suites at Aria Resort and Casino
Of the 4,004 rooms at Aria, 568 of them are suites. The resort is so focused on the elite traveler that it has a separate entrance for guests who have booked a suite, with private elevators and check-in facilities. Here are some of the highlights of the suite life at Aria.
Sky Suites Two Bedroom Sky Villa
The top of the line at Aria, this gorgeous room will have your eyes bulging form the second you walk in the door. The décor is modern but elegant, and the floor to ceiling windows give a jaw-dropping view of the skyline of Las Vegas. There are two separate private bedrooms in this suite, each adorned with a bathroom that is spa-quality. You will be a high-roller if you are entertaining in this suite.
Executive Hospitality Suite
If you need to mix business and pleasure during your stay in Las Vegas, this room can accommodate both. The main feature of this room is a separate 12-seat conference room for meetings that will make it feel like you are in an office. After the meetings, the doors open up to a large living and dining area for entertaining features plush seating and a wet bar. All this is packed into a huge 2,000 square foot space with excellent views of the city or the mountains.
One Bedroom Penthouse Suite
The suites aren't all outrageously priced and sized to entertain a lot of guests. The one-bedroom Penthouse Suites offer guests a luxurious stay with 1,400 square feet to move around in. These rooms also feature floor to ceiling windows and modern technology to help you control everything from climate to entertainment at the touch of a button.
Top 3 Dining Options at Aria Resort and Casino
While CityCenter is a huge complex full of dining options, Aria itself has a wide array of fantastic places to eat. Here are a couple of our team's favorites.
Jean Georges Steakhouse
One of the top steakhouses in all the United States, you are going to want to take your time savoring every bite of the luscious steaks on the menu at this fine establishment. The top beef is used for the steaks here, cooked to absolute perfection, and accompanied by some of the unique side dishes you will find courtesy of celebrity chef Jean Georges.
Carbone
This is not your typical Italian restaurant. While the menu items may sound familiar and the concept is to bring back what made Italian restaurants of the mid-20th Century so popular – a personal touch to everything from when you take your seat – the classics have truly been elevated at Carbone. Book well in advance as this place is sold out every night.
Sage
If you are looking for Instagram-worthy plates of food that are equally tasty as they are art, then Sage is going to be the place you want to book for one of your dinners. The eclectic menu brings together inspiration from all over the world, and yet somehow brings it all together in American classics that you won't be confused by when ordering. This James Beard-winning restaurant is to die for and is a must-visit for any foodie.
The One Thing You Can't Miss at Aria Resort and Casino
Aria has something for everyone – a great pool area, fine dining, loads of bars, and entertainment. However, the can't-miss option at Aria has to be the Fine Art Collection. One of the largest corporate collections in the world, the pieces here are stunning, and you may want to return more than once to truly admire all that you can see in this gallery. A nice break from the casino and the pool, this is a chance to add some more culture to your Las Vegas visit.