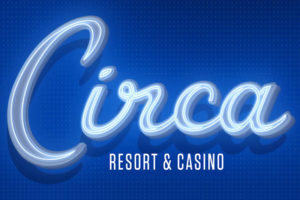 Established In: 2020
Former Names: None
Owner: Stevens' Brothers
Number of Rooms: 777
Location: Fremont Street
Downtown Las Vegas and Fremont Street used to be the epicenter of entertainment back in the early days of Vegas.  When the resorts started to be built further south on Las Vegas Boulevard, however, it signaled a change for the downtown area.  While there was a lot of work done to renovate existing properties and to make Fremont Street more attractive to tourists, there had not been any new resorts erected until the announcement of Circa.  While the hotel is not slated to open until the end of 2020, we can give you an idea of what to expect when it does.
A brief history of The Hotel
Circa is the brainchild of Greg and Derek Stevens, owners of the Golden Gate Casino and The D, both on Fremont Street. They purchased the Las Vegas Club in 2015, and after deciding against renovating the old property, they demolished it, and plans for Circa began. As they explained in the press conference to announce the new hotel, Circa gets its name from the history of Las Vegas.
The 777 room hotel is well on its way to being completed, and it appears that the launch date will be in December 2020.
Gaming at The Hotel
At Circa, while the rooms, the décor, and the dining will all be new and exciting, the casino will still be the focus of the property.  According to the plans, the casino floor at Circa will be housed on two floors and will have over 1,300 slot machines and almost 50 table games. This will make the casino comparable to many on the Strip and will make the area more attractive to gamblers as well as visitors.
Top 3 Suites at The Hotel
At this time, there are no details on the suites that will be available at Circa when it opens. We do know that the hotel will have 777 rooms, and many of those will be suites.  Given the quality of the suites at The D (upgraded from the original property but still using the same blueprints), it is safe to say that Circa will have its fair share of opulent rooms for you to reserve if you are feeling like a high roller when you make it to Vegas.
Top 3 Dining Options at the Hotel
Although the information on the accommodations is not complete, there is a little bit we can tell you about the dining options you will have at Circa when it opens.  Promising something for everyone and everything from quick bites to impressive meals, here are a few of the choices you will have:
8 East
The first Pan-Asian restaurant from famous chef Dan Coughlin, 8 East, brings together cuisine from all over Asia to give you a dining experience like no other.
Barry's Downtown Prime
What Las Vegas resort would be complete without a great steakhouse, and Barry's promises to be serving up the finest cuts of meat along with delicious seafood options.  No doubt, there will be an impressive wine list for you to choose from at this classic Las Vegas eatery.
Project BBQ
Here is an interesting concept – a permanent food truck serving up some amazing BBQ!  That's what is in store for this spot, which will have a seating area right on Fremont Street.
As more information becomes available on these restaurants, we will be sure to post it here for you.
The One Thing You Can't Miss at Circa
Seeing that we haven't seen anything at the hotel in person, we are taking a shot in the dark here.  However, we think there are two things you should be getting excited about when Circa opens, and these are definitely two very different options.  First is what is being hailed as the World's Largest Sportsbook. This theatre-style sportsbook will consist of three floors and will have a TV for all time – 78 million pixels on this baby!
For those not into sports betting, you are going to want to spend some time at the 6-tier rooftop pool being planned for Circa.  Early indications are that this is going to be the best pool in Vegas by far, and with cabanas that can hold as many as 50 people, you can expect there to be partying happening while the sun is up and likely while it goes down as well.