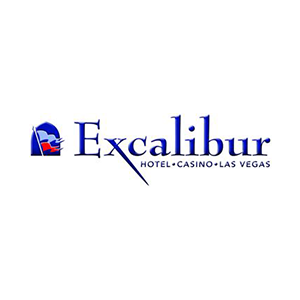 Established In: 1990
Former Names: None
Owner: MGM Resorts
Number of Rooms: 3,981
Location: South Las Vegas Boulevard at Tropicana Ave
Las Vegas is a city that caters to travelers of all types and budgets. Even on Las Vegas Boulevard, there is a wide range of options from the highest of quality to more cost-friendly choices. Excalibur is one of the resorts on the Strip that is on the lower end of the spectrum, but that doesn't mean that it doesn't provide a great experience for guests and visitors alike!
A brief history of Excalibur
With a Medieval theme, Excalibur was built with a more family-friendly atmosphere in mind. It opened back in 1990 to great fanfare, and the hotel hasn't seen much in the way of major renovations or expansion since then. Circus Circus Enterprises was the original owner of the hotel, and when it was opened, it was the largest hotel in the world, and even today, it ranks as the 11th largest by the number of rooms.
The excitement over the theme waned over the years, and MGM Resorts International bought the property in 2005. Since then, some money has been put into modernizing the facilities, but there hasn't been nearly as much investment in Excalibur as other MGM hotels, leading to its lower-end rating today.
Gaming at Excalibur
The casino floor at Excalibur is something to behold, coming in at just over 100,000 square feet. This massive casino includes over 1,800 slot machines, which make the lower ceilings noisy with bells and whistles as everyone tries to hit the jackpot. The slots feature many of the massive progressive jackpot machines, and, in 2003, a player won the Megabucks jackpot while playing at the casino for a $39.7 million payday!
There are also loads of table games for fans of playing cards and roulette – 85 of them in total on the Excalibur casino floor. Unfortunately, poker fans are out of luck as there is no poker room at the current time.
Top 3 Suites at Excalibur
As we mentioned, the rooms at Excalibur were the main focus of the renovations done by MGM in the early 2010s, so now all the rooms feature more modern amenities and furniture. Here is a look at a few of the top rooms at the resort.
Royal Two Bedroom Luxury Suite
What this room lacks in lavish size it more than makes up for in comfort! This two-bedroom suite has a separate entertaining area between the two bedrooms, and even though the room is only 1,200 square feet, there is enough room for a wet bar and fridge as well as a soaker tub in the Master Bedroom.
Two-Bedroom Luxury Suite
This room is designed for relaxation and spreading out during your busy stay in Las Vegas. Two bedrooms are flanked by a sitting area with a flat-screen TV, a coffee maker for that much-needed cup in the morning after a Vegas night, and a wet bar if you want to make a cocktail before heading down to the casino.
Royal Luxury Suite
Romance is the name of the game with these suites on the Excalibur property. With soaker tubs in the bedroom, these suites are the perfect spot to be decadent during your visit. The rooms are just shy of 700 square feet, so you won't be doing much group entertaining here, but perhaps that is exactly what the doctor ordered.
Top 3 Dining Options at Excalibur
There aren't as many options for dining at Excalibur as some of the newer resorts, but there are still some great spots to grab a bite to eat during your visit.
Camelot Steakhouse
You will feel like a knight when you sit down for a meal at this elegant steakhouse. There are standard cuts of meat and great seafood, but if you are going with a group, then we suggest you give the Camelot Feast a try. This tasting menu is stacked with amazing options for entrees, mains, and deserts and is a great value. Pair your meal with some incredible wines from the cellar, and this is the best meal at the resort.
Bucca Di Beppo
This popular Italian eatery combines great tasting food with a fun atmosphere that will have you ready to hit the town (if you don't need a nap first!). The menu is full of classic Italian dishes of pasta and pizza, and the desserts are something to behold. Be sure to try a signature cocktail before your meal to make this the perfect night.
Dick's Last Resort
While this isn't the fanciest of meals, this is the place to be if you want to find the "it" crowd at Excalibur. The wacky restaurant and bar serve up some great simple dishes to go along with a huge drink menu. Dick's Last Resort is also home to the Dueling Pianos show, which is a must-see if you are there for dinner or even just heading for drinks later in the evening. You can make requests or just sing along with the classics as these two entertain like no others.
The One Thing You Can't Miss at Excalibur
While there is a lot to see and do at Excalibur, we think the one thing you can't miss is the Tournament of Kings. This dinner show brings you right to Medieval times, featuring entertainment from knights on horses in the in-the-round shaped restaurant and theater. Y our show comes with a three-course meal and will encourage you to be rowdy as you cheer on your team's knight. Who will come out the winner? You can only find out by booking a table at this spot.