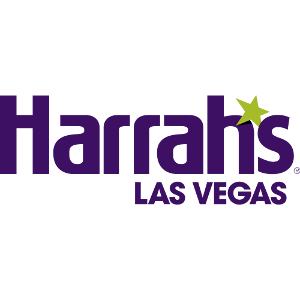 Established In: 1973
Former Names: Holiday Casino
Owner: Vici Properties
Number of Rooms: 2,540
Location: Las Vegas Boulevard
Right in the heart of the Las Vegas Strip, you will find Harrah's Las Vegas. This hotel is the perfect spot to make your way around Las Vegas Boulevard to see all the sights, but there is also a lot to take in at the hotel itself as well! The mid-range cost of the rooms means that guests can be in the middle of the action without having to spend an arm and a leg to do so.
A brief history of Harrah's Las Vegas
Back in 1973, a small riverboat-themes casino was opened on Las Vegas Boulevard in front of what was then the Holiday Inn Hotel. This was the genesis of the current Harrah's property, with Holiday Casino a fixture on the Strip until 1992. That was the year that the name was changed to Harrah's in honor of the company's president. A few years later, in 1997, there was a complete remodel of the property that included a massive expansion of the hotel and a change of the theme of the resort. Gone was the omnipresent riverboat façade replaced with a full carnival theme. That theme continues to exist at the property today.
Harrah's was sold by Caesars Entertainment in 2017 to Vici Properties, and there is no indication that any changes are planned.
Gaming at Harrah's Las Vegas
Amongst the changes that came in the remodel of the casino in 1997 was an expanded gaming floor, which now stands at 95,000 square feet. This room definitely has a carnival feel to it with loud music and lots of fun at the tables. As Harrah's is one of the few casinos that is not set back from the road, there is a lot of foot traffic through the casino floor, which adds to the overall party atmosphere.
On the gaming floor, you will find 80 table games (mainly due to the increased foot traffic) and over 1,200 slot machines. This means that there is always going to be a game for you to play when you walk the room. You will also find a small poker room with up to 12 tables available for cash games and tournaments. Overall, the casino floor at Harrah's is definitely something to check out as it is unlike any of the others on the Strip.
Top 3 Suites at Harrah's Las Vegas
There are lots of choices of accommodations in Las Vegas, especially in the area of Harrah's. However, the price of rooms at Harrah's is far more affordable than some of the surrounding properties, which means you can take some extra money to enhance your stay with one of these suites should you so choose.
Presidential Suite
Now, before you get too excited, you should remember that this an older hotel. The Presidential Suite at Harrah's is only 1,200 square feet, which is not nearly as large as some other hotels. However, the quality of the room in undeniable, with modern décor and all the amenities you would expect from a suite with this name. You can also attach a second room to the suite if you need the extra space. You can entertain friends in the living area while keeping your king bed separate from the action.
Mardi Gras Tower Executive Suite
This suite features two bedrooms in its 1,250 square foot layout, and this means the living area is a little bit smaller. There is still lots of room to spread out and relax after a night out in Vegas, and the room comes with all the top bathroom amenities to help you prepare for another shot at winning big at the tables.
Valley Tower Vice Presidential Suite
Another great looking room over 1,000 square feet, the modern accents in this suite make it feel more like a penthouse condo than a hotel room. There is a bar area with a full wet bar for your use, along with a lounge area that is comfortable enough to not want to leave! Overall, this suite provides a great amount of quality to go along with the two bedrooms and bathrooms.
Top 3 Dining Options at Harrah's Las Vegas
If you are staying at Harrah's or just wandering through and looking for a place to eat, there are lots of choices that are bound to satisfy all types of appetites. Here are a few to check out.
Ruth's Chris Steak House
If you haven't visited a Ruth's Chris steakhouse somewhere in your travels, you are missing out on a classic steak meal. The origins of this restaurant go back 50 years, and it is their model that so many other steakhouses in the U.S. follow. Harrah's brought this legendary name to the Strip so you can sit down and enjoy likely the best steak you have ever had.
Toby Keith's I Love This Bar and Grill
While this spot is a little more casual than Ruth's Chris, the atmosphere in this restaurant and bar will have you in the party mood! Loud music and great service add to the overall experience and a great menu of All-American favorites. You can't go wrong with the music of this country legend either!
Oyster Bar Las Vegas
If you are looking for some great seafood, a quick bowl of chowder or a dozen oysters on the half shell, then this is a great spot for you to stop and savor the flavors! The vibe is casual, and the ingredients are fresh and tasty at this pitstop for a great meal.
The One Thing You Can't Miss at Harrah's Las Vegas
With everything that is happening inside the resort, the one thing you don't want to miss at Harrah's is actually happening outside! Next to the south doors of the casino, you will find Carnival Court – a repurposed alleyway that is home to a great outdoor party every day! There are blackjack tables for your entertainment, a full bar for ordering some awesome Mardi Gras frozen cocktails, and a stage that features some of the best cover bands you will ever hear! Dance and sing with the bad during the day and into the evening at this covered patio party, unlike anything you will see in Las Vegas. It is definitely something you don't want to miss, whether you are staying at the resort or if you are just wandering Las Vegas Boulevard.