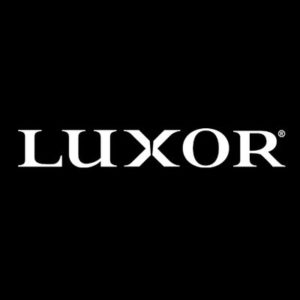 Established In: 1993
Former Names: None
Owner: MGM Resorts
Number of Rooms: 4,407
Location: South end of Las Vegas Boulevard, next to Mandalay Bay
It is hard to miss Luxor when you are flying into Las Vegas, especially at night. The pyramid-shaped hotel tower can be seen from miles away, and the powerful beam of light seems to shine into the heavens, making it noticeable from any direction when you are landing in the evening. The luxury Egyptian-themed hotel offers a little bit of everything to guests and visitors.
A brief history of Luxor
Opened in 1993 by Circus Circus, Luxor is an ancient Egyptian themed hotel and casino named after the city of the same name. The project was kept under wraps originally, but it wasn't hard to see what was taking shape when the all-glass Pyramid started forming at the south end of Las Vegas Boulevard. When it was complete, it was a marvel and something that all travelers to the city wanted to experience, even if they were staying there.
The property was meant to have more of a family-friendly vibe to it, almost being partly a museum of sorts. This included a replica of King Tut's tomb in the middle of the main floor. The hotel was a huge success, and expansions in the years following added two towers and almost 2,000 more hotel rooms to the property. MGM assumed ownership when it bought Circus Circus, and kept it running in its current state until 2007 when it decided the Egyptian theme was getting old. The massive renovation gave the hotel far less of an ancient Egyptian look and more of a VIP, club-style décor.
Gaming at The Hotel
With the massive pyramid tower built in 1993 (the tallest building in Las Vegas at the time) came a massive casino floor that is over 100,000 square feet. While the hotel was meant to attract lots of foot traffic for the design, it is ultimately a casino resort, so gambling is the main focus of Luxor.
However, given the size of the space, there aren't as many slots and table games as you may have expected, partly due to the location of the hotel itself, which is far away from the main part of Las Vegas Boulevard. There are 60 table games and approximately 1,100 slot machines spread out around the floor, with a lot of the other space taken up by bars and lounges. This number still gives gamblers plenty of choices of what games to play, and with the new train that runs back towards New York New York, you can get to and from Luxor's casino with ease.
Top 3 Suites at The Hotel
While any room in the Pyramid may seem like a fun option, those rooms are a bit on the small side, so we think you should check out some of the amazing suites that Luxor has available to its guests.
Tower Luxury Two Bedroom Penthouse Suite
While not situated in the Pyramid, this suite will have you forgetting that building exists altogether. The modern décor in this 3,600 square foot suite will have you wanting to stay in and entertain before you hit the nightclubs and the casino tables. A refrigerator, wet bar, and a pool table are all reasons to hang out in this great suite that overlooks Las Vegas Boulevard in all its glory.
Tower Premier Two-Bedroom Suite
Not situated as high up in the tower means you will save lots of money but still have a ton of luxury in this 1,600 square foot suite that is decked out for the high-roller. This room features separate living and dining areas and a full wet bar, along with a spa-like shower in the main bedroom's bathroom.]
Pyramid Premier Suite
You didn't think we would leave out staying in the Pyramid, did you? These recently renovated rooms at the top of the Pyramid are 1,200 square feet and give you a great view of the city skyline. The sloped windows are a unique feature to these suites, which make you feel like you are on the inside of a pyramid…because you are!
Top 3 Dining Options at the Hotel
There have been many changes to the dining options at Luxor, so let's take a look at the cream of the crop today.
Tender Steakhouse
It feels like every hotel in Las Vegas has its own take on a steakhouse, and that is because of the popularity of eating at one of these establishments! Tender is a great name for this place because you are going to find some incredible mouth-watering cuts of meat cooked to absolute perfection. The prices aren't nearly as high as some of the other places with celebrity chefs' names attached, so take advantage of this great meal at a great price!
Diablo's Cantina
This take on Mexican cuisine has been taken up a notch on all fronts. The flavors are bursting out of every item on the menu, and with a couple of cold margaritas in your belly, you will be ready to take on all comers after a meal here!
Backstage Deli
Not every meal has to be a long, drawn-out affair, but hat doesn't mean the quality needs to suffer! The food at this quick New-York style deli is exactly what you would expect – fresh ingredients on perfect bread, and all ready to go in a matter of minutes. If you are on the go and just want a quick bite to tide you over, you can't go wrong with this deli.
The One Thing You Can't Miss at the Hotel
Well, with all the changes in the theme of the hotel, one thing that hasn't gone away is the inclinators which take you to the rooms in the Pyramid at a 39-degree angle. Now, when you are done playing on the elevators, you should definitely check out Carrot Top who has a residency at Luxor. THe legendary comedian brings his unique style of comedy to the theater in Luxor, and he has become one of the modern legends of the city with his act's longevity. Take the time to go check him out when you are staying at Luxor or if you are just visiting. You may not have to get tickets in advance, but if you want to guarantee a seat, it is a safe idea to call ahead.