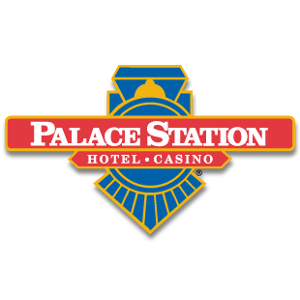 Established In: 1976
Former Names: The Casino, Bingo Palace
Owner: Station Casinos
Number of Rooms: 1028
Location: Off-Strip near Sahara Avenue and Hwy 215
While it is not on the Strip and is known more as a locals' casino, Palace Station is a great place for a change of pace for travelers to Las Vegas, and with its association with some other more familiar casinos in the city, there are lots of reasons to check it out no matter when you travel to Sin City.
A brief history of Palace Station
Built by a group led by Frank Fertitta Jr, The Casino was built off the Strip and away from Fremont Street, designed to be a place that locals could go and enjoy gambling without having to spend too much time in the busy tourist areas of Las Vegas. There were many doubters that a location in this area would be a success, and even more so when the name was changed to Bingo Palace after the addition of a bingo hall. However, the lure of cheap games, free buffets, and entertainment was enough to make the casino successful not only with locals but also with travelers not interested in spending crazy amounts of money to stay on the Strip.
The hotel and casino had a major expansion in 1984, and that is when it was renamed Palace Station, along with adding a train décor. This would be the first of a series of off-Strip properties the company would build with the same theme. It was only in the mid-2010s that as part of a modernizing of the property, Palace Station would lose the iconic trains outside and it's old railroad station sign.
Gaming at The Hotel
When a hotel is off the Strip, and especially if it is designed with locals in mind, the first thing you will notice is that the betting limits are typically lower than what you would find at one of the larger resorts. That isn't to say that you can't bet big – you certainly can. However, the lower limits make it easier to be more casual at the tables as a whole.
At Palace Station, you will find a gaming floor that takes up 85,000 square feet, which is comparable with many of the larger casinos. There are over 50 table games on the floor, where you can find all your favorites and even some with a little twist. To add to the gaming excitement, there are well over 1,500 slot machines for you to give a try, including some of the largest progressive jackpots in the city. There is still a bingo hall for those of you interested in some dabbing, and also a sportsbook for those who consider themselves a bit of a handicapper. All told, the facility has everything a gambler could want.
Top 3 Suites at The Hotel
Even though Palace Station started with a motel, with all the renovations, you are now going to fins over 1,000 rooms with modern furnishings. With that said, there are some great options for those looking to take their stay up a notch or two.
Grand Suite
This is the best suite in the entire hotel. At a whopping 1,100 square feet, this room has everything from three 60-inch flat-screen televisions to a full bar area. You are going to want to spend lots of time in this room with all your friends, and they are going to want to stay when they see it!
Executive Suite
This room as a separate sitting area to complement the king size bed – from both, you can see a great view from the floor to ceiling windows. This is a room that you can relax in after a long night at the casino, or jump in the jacuzzi tub to feel like you are at the spa.
Parlor Suite
This 675 square foot suite has a sitting area and a full bar complete with a couple of barstools. The room is great for chilling out or having a few folks over to watch the game and have a couple of drinks. There is also a dining room table if you feel like having a quiet meal every once in a while during your stay.
Top 3 Dining Options at the Hotel
Again, while you might not expect a hotel and casino not situated on Las Vegas Boulevard to having the best dining options, Palace Station will surprise you with the number and the quality of their restaurants. Here are a couple of our favorites.
The Charcoal Room
Sticking with the theme that every hotel in Las Vegas seems to have a steakhouse, Palace Station's version is a classic American-themed location. With modern décor including a viewable wine locker to die for, The Charcoal Room is the perfect place to get fancied up for a spectacular meal. Top cuts of meat are complemented with great seafood options at this top-notch restaurant.
Boathouse
Brought to you by the same folks that own the Northern California restaurants of the same name, Boathouse has a very modern, clean look and feel to it. Don't let the simplicity of the menu fool you, however – the ingredients used for this Asian fusion spot are so fresh they will send your taste buds on a journey. This is a great spot for a quick appetizer or for a full meal, and their half-off Happy Hour Specials will have you coming back more than once!
The Brass Fork
This spot takes 24-hour dining to a new level of excellence. With a fantastic menu serving classic dishes day and night, you can't go wrong stopping into this casual restaurant whenever you are hungry. The Brass Fork is also known for its array of Bloody Mary choices as well as several champagne cocktails that can make for a boozy brunch any hour of the day or night!
The One Thing You Can't Miss at the Hotel
The one thing you can't miss at Palace Station is actually something that will give you rewards all over Las Vegas -the comp program! The Station Casinos Rewards program gives you points every time you spend money at Palace Station along with any other Station Casino properties. This now includes the Palms, so you can earn your points at Palace Station and use them for a meal up the road at a different hotel. The Station Casinos Rewards Program is very generous, so you have to make sure you get a card and use it as much as possible so you can take advantage of the great rewards.