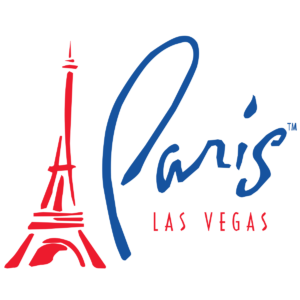 Established In: 1999
Former Names: None
Owner: Caesars Entertainment
Number of Rooms: 2,916
Location: Las Vegas Boulevard across from Bellagio
If you aren't lucky enough to make it all the way to France, you may never get to experience Paris and all its marvels. However, if you make a trip to stay at Paris Casino Resort in Las Vegas, you can get a taste of what if would be like to visit the city without having to brush up on your French. Let's have a look at all that Paris Casino Resort has to offer.
A brief history of Paris Casino Resort
It seems like every themed casino makes its way onto the Las Vegas Strip, and in 1999, Bally's Entertainment built a France-themed resort called Paris. It isn't hard to tell that this was the theme given the replica of the Eiffel Tower right in front of the property looming over Las Vegas Boulevard. The hotel was built right next to the Bally's Casino and right across the street from the very popular Bellagio.
While the French theme was popular for a time, Caesars decided to phase out some of the overtly Paris-themed references in the 2010s. The resort has not lost its look, that's for sure, but don't expect as many people to greet you in French these days. The resort features scale replicas of all or parts of the Eiffel Tower, the Arc de Triomphe, La Fontaine des Mers, the Paris Opera House, and L'Oeuvre.
Gaming at Paris Casino Resort
Even though the resort was styles with a Paris theme, the gaming floor is nothing like what you would find in the private French casinos. With almost 95,000 square feet of gaming floor space, Paris offers players loads of great table games and slot options, all with a French décor to gaze at in between hands or spins.
Paris Casino Resort is a great spot for fans of table games, as there are over 150 different tables spread around the casino floor. This means that you are likely going to be able to find a spot to play your favorite game without any wait. There are also 2,400 slot machines on the premises, covering all the bases in both style and branding. Poker lovers will be happy to know that there is a poker room at Paris Casino Resort as well, where daily cash games and tournaments are on the schedule.
Top 3 Suites at Paris Casino Resort
It goes without saying that he accommodations at Paris Casino Resort are top-notch, but if you are someone who aspires to the finer things in life, then you may want to check out one of these suites the next time you are planning to stay at this hotel.
The Napoleon Suite
This is the best suite on the property, and staying in the lavish room may make you feel like you are the famous French leader yourself. This 3,400 square foot room features three bedrooms and five bathrooms. Many of the bathrooms feature lush red draping, and the décor in the whole suite is dripping in the high-quality French design that has been featured for centuries. There are some more modern amenities in the suite as well, and the focal point of the lounge area is the baby grand piano, which can be used to entertain your guests.
Louis XV Suite
Another room named after a famous French leader, the Louis XV suite is a two-bedroom, 3,300 square foot dream that takes guests back to the days of the French Revolution. The suite has the feel of a castle in Versailles and also features a baby grand piano in its expansive sitting area. You will be amazed that the level of detail that has gone into every inch of the design of this room.
St. Tropez Suite
If you are looking for something a little more understated from a décor perspective, but still keeping with the romantic French theme, then the St. Tropez room could be for you. This one-bedroom suite isn't as large as the ones listed above, but still gives you lots of rooms to relax before and after a long day at the tables or out on Las Vegas Boulevard. The elegant stylings of the bathroom make it feel like an oasis of relaxation. These suites are definitely an excellent upgrade from a regular room.
Top 3 Dining Options at Paris Casino Resort
Paris is full of great dining options for all price ranges and tastes. We suggest the three following spots for you to try:
Mon Ami Gabi
This classic French-style bistro is a must-stop for those looking to get a little bit of sun on the patio and to have a session of Las Vegas people watching. The fare in this restaurant is simple but delicious, taking into account what you might find at a little bistro on a Paris street. Situated right in the front of the resort, you can check out the Bellagio fountain show with your meal/
Gordon Ramsay Steak
The French-themed hotel is an odd spot to find a restaurant run by an angry English celebrity chef, but have no fear – there is no animosity when you enter the place! This steakhouse features some of the best cuts of meat you will find in the city, and with Ramsay's flair for delicious tastes, it is not shocking that this restaurant has been a favorite since 2012 when it opened.
Martorano's
Again straying from the traditional French cuisine, this family-style Italian restaurant also features the East Coast American vibe brought to it by its owners. The food here is to die for, but come hungry as the portions are huge and you will want to eat every bite!
The One Thing You Can't Miss at Paris Casino Resort
Of course, if there is one thing you are going to do at Paris Casino Resort, it is to travel to the top of the Eiffel Tower to take in the view of the Strip from high above the ground. You can book a trip up the Tower at all times of the day, or if you want you can make a reservation at the Eiffel Tower restaurant to extend your stay above the street. Either way, this is an attraction you really need to take advantage of during your stay in Sin City.