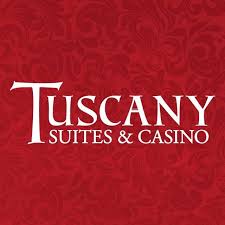 Established In: 2001
Former Names: None
Owner: CMH Real Estate Development
Number of Rooms: 716
Location: Flamingo Road, just east of Las Vegas Boulevard
Some people that travel to Las Vegas cannot handle the sheer volume of traffic and people on Las Vegas Boulevard. It can be, at times, overwhelming to both hang out and stay on the Strip, so for those travelers, hotels like Tuscany Suites and Casino is the perfect spot. Located just off the Strip, this is not a casino that is visited by tourists looking to take pictures of fountains, so there is far less foot traffic for those looking for a calmer experience. However, this resort still offers a lot of great amenities!
A brief history of The Hotel
Tuscany Suites and Casino is an all-suites hotel that was originally opened in 2001. Meant to be an alternative to staying on the Las Vegas Strip, the hotel didn't actually have a casino for another two years. This presented as somewhat of an issue for attracting guests over the early stages of the property's life. However, now that the casino is in, it is an excellent spot for people who like to gamble but not all the craziness of the Strip.
Tuscany Suites is not a very large hotel compared to the behemoths shadowing over it a couple of blocks away. However, with 716 spacious rooms for guests to choose from, it is by no means a boutique hotel either.
Gaming at The Hotel
Tuscany Suites, for a hotel that isn't as huge as many on the Strip, definitely didn't sacrifice the size of its gaming floor. A casino that is designed with both tourists and locals in mind, the gaming floor as Tuscany Suites and Casino is 35,000 square feet in size, providing ample space for over 800 slot machines and a dozen table games to be set up. Admittedly, if you are a table games fan, you may find yourself waiting a bit for a seat at a table, but there are lots of options when it comes to finding a slot machine to your liking, that's for sure!
Top 3 Suites at The Hotel
Given that the property is an all-suites hotel, it is clear that it is catering to a different kind of clientele -one that needs the space of a suite or enjoys having a little extra room perhaps for a longer stay in Las Vegas. Here's an overview of the kinds of suites you can book at Tuscany Suites and Casino.
Luxury Two Bedroom Suite
This is the largest room on the property at 1,325 square feet. The suite is split-level, giving you even more privacy if part of your group wants to get some quiet time while you entertain. This is the perfect room for families, for someone wanting to have a couple of quiet drinks with colleagues, or someone just ready to take the party to the next level!
Executive King Suite
Sometimes, it isn't the size of the suite that matters to guests, but the amenities inside. The Executive King Suite isn't extremely large and doesn't have a separate bedroom, but it does come with a seating area as well as a fridge and a coffee maker. While this may seem inconsequential, when you always have to leave your room to get an overpriced cup of coffee in the morning, this is a true luxury.
Executive Double Suite
Perfect for a couple of buddies traveling to Vegas who want to share a room but not a bed, this is the exact same room as the Executive King but with two double beds instead. This is great if you want to save a little money but not lose any quality.
Top 3 Dining Options at the Hotel
There is a handful of places to eat inside Tuscany Suites and Casino, but the options are a perfect mix of fine dining and casual atmosphere.
Tuscany Gardens
The perfect homestyle Italian meal is exactly what you'll want while staying at this resort with Tuscan themes all around. Tuscany Gardens offers all the traditional Italian favorites on the menu, and when you pair them with a great bottle of wine from the award-winning selection, you'll already be thinking about when to come back to this restaurant.
Pub 365
This place is a beer lover's dream! There are 365 beers rotating on tap at this spot, which is enough to keep you coming back again and again! However, there is also a fantastic menu featuring some of the best pub-style food you will find in all of Las Vegas. Check out a game on the big screens or just come by for Happy Hour and feel the energy coming out of this pub in the heart of the resort.
Marilyn's Café
If you are on the hunt for a simple but delicious all-day breakfast or a late-night meal before you hit the sack, then this is the perfect restaurant for you. A true café-style spot featuring fresh ingredients and friendly staff, you will be in and out of this place quickly and satisfied.
The One Thing You Can't Miss at the Hotel
No visit to Tuscany Suites and Casino for guests or visitors is complete unless you check out the nightly entertainment in the Piazza Lounge. This gorgeous lounge is the perfect location to have a drink and take in one of the great acts performing nightly. There is something a little different on stage every night, so even if you are passing through, peek your head in and grab one of the signature cocktails while you enjoy the performers.