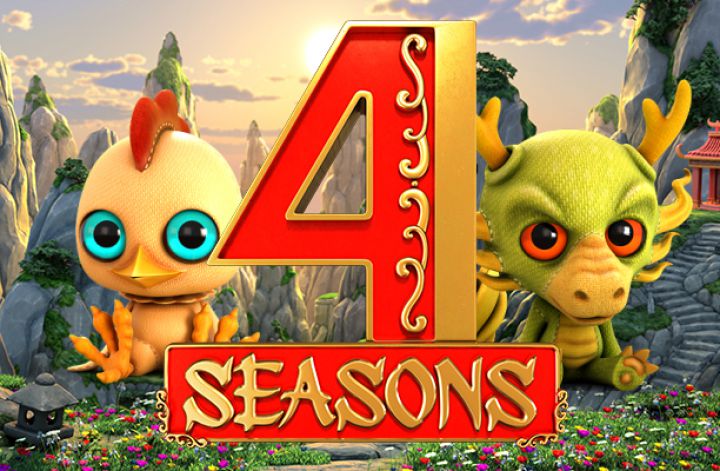 4 Seasons claims to be inspired by the Chinese zodiac, but when you land on the slot game you get a completely different feeling from what you would expect. Instead, you have a rather cute looking set of symbols, but for a game to succeed it does need a bit more than just looking cute.
Overview of 4 Seasons
The backdrop to this game is a Chinese village while the symbols that appear on the reels are indeed symbols associated with the different Chinese New Years, but they have been made to look a whole lot cuter than normal. So, there are still dragons, pigs, dogs, cats, and all of the other symbols you would expect. The game itself has a total of 5 reels while it also offers 30 different paylines, so there are a number of chances to win.
How to Play 4 Seasons
In order to play this game, you need to go ahead and select the coin size and this is changed by clicking on the plus or minus symbols next to the choose coin button. Also, you need to select the bet per line, and this is changed using the same plus or minus symbols. This changes the size of the total bet, but that's clearly displayed before you go ahead and hit spin.
Bonus Features for 4 Seasons
The game does also comes with a number of cool bonus features. The cat acts as the wild symbols in this game, and it's going to act like a normal wild by swapping out all other symbols aside from the scatter. This does then boost your chances of having some winning paylines.
The scatter symbols are represented by the Yin/Yang symbol, and that's going to lead to you grabbing some free spins if you land at least 3 of them across the reels. How many free spins you receive depends on the number of symbols you land. In this instance, it's going to be either 8, 12 or 20.
But then, there are 2 other bonus features to be aware of.
The seasonal wheel spins after every 30 spins of the reels. When it's activated, it will land on an animal. Land on the golden animal then prizes are paid at 10x. Land on silver, then it's 5x which is a nice little bonus if you are lucky enough to be able to grab it.
Also, there's the Block Win Combos where you have stacked symbols. If an animal appears on the stacks, and land enough of them, then you will be able to win some multipliers. Get 2 reels, and you land a 2x multiplier. Land 5 and you get a 10x multiplier.
Bets and Payouts for 4 Seasons
The coin range here starts off at 0.02 and goes up to a maximum of 1. That means it's possible to have a small bet if you plan on only using one payline. When it comes to the payouts, the top paying symbol is the Golden Cat; where landing 5 of them will lead to you getting the jackpot. Also, with so many different multipliers available, it means your chances of grabbing some higher payouts are obviously increased.
Overall, 4 Seasons is a nice enough slot game that's softer in its appearance than others linked to the Chinese zodiac. The bonus features are brilliant, and it's worth checking out the game for those alone.