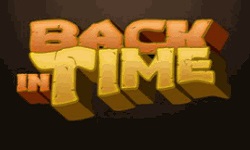 This is another slot from the Betsoft software platform, launched in 2012. Back in Time is a 3D slot that might seem a little childish, and was created mainly for fun (even as you can make real money from it). The incorporation of cartoon and animation makes it appeal to all sorts of players. At first glance, you might write it off, but this is a very easy slot to play and offers more features than you might expect.
Overview of Back in Time Game
With its prehistoric dinosaur theme, this slot takes you on a journey way back in time. Some might consider it childish because of the toddler dinosaur but give it a chance. We all have that innate desire to feel like a child again right?
Back in Time is an enjoyable addition to Betsoft's slot portfolio. Right from the load screen, you hear drumbeats in the background that gives the game an ancient feel. As simple as the animation looks, it does a great job in representing the prehistoric feel the game intends to portray. The 3D dinosaur girl in the corner is a nice addition to the overall slot.
How to Play Back in Time 
Back in time is unlike your regular slot, in that it has way fewer paylines. With this game, you have the opportunity to win vertically, horizontally, and diagonally. This improves your chances of winning and making a profit. Back in Time consists of 9 reels and 8 paylines and does not include a progressive jackpot.
The coin value ranges from $0.02 to $0.05 per active payline. It is a lot harder to hit a bonus game but if you can manage it, you can earn 4,000 coins. There are also no free spins in this game, though there is a wild symbol that is represented by a cracked egg with question marks on top of it.
Bonus Feature for Back in Time 
Lock
This is a fascinating feature that allows you to lock wheels that you think are promising. This unusual feature makes Back in Time unique and also increases your chances of winning. After your first spin, you can select as many as 9 reels you want to stay the same. This is activated when you spin for the second time as those locked reels will remain the same. With this, you can get matching symbols more easily vertically, diagonally, or horizontally.
Wild Symbol
As stated above, the wild symbol in this slot is represented by a hatched egg with question marks on top of it. As you strive to get three matching symbols along a payline, this symbol can help make your job a lot easier. The hatched egg can take the form of any other symbol except the bonus. Anytime you get a bonus symbol with a stone, it falls to the dinosaur at the bottom of the screen. If you can accumulate three stones, you will be tasked with choosing which box she should throw them at. With any luck, you can win up to 200 coins. Just in case you were wondering what function the little dino-girl plays, that's it.
Compatibility of Back in Time 
This slot is not available on mobile devices. It can only be found on slot machines and some select casinos. However, Adobe Flashplayer has to be enabled before you can enjoy this 3D slot from Betsoft.
Back in Time has a Return to Player (RTP) of 97.0%, higher than most games.