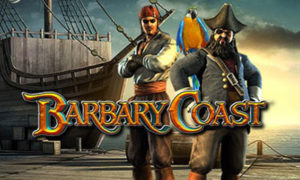 Barbary Coast is a 3D slot from Betsoft that comes with an exciting story. To fully understand the concept of this game, you should watch the awesome intro in its entirety.
If you do not mind a little adventure and are a fan of the "Pirates of the Caribbean" series, this has everything you'd want and more. This slot is filled with a thrilling plot and characters you will love. As with all slot3 series games, they strive to entertain as well as reward bettors (at least a little bit!).
 Overview of Barbary Coast
The Barbary Coast slot theme has a main character in the person of Captain Benjamin Sawyer, a fearless pirate. The goal is to rescue a damsel in distress from mean-looking pirates and their boss, Blackbeard. In the process, you also need to loot as much treasure as you can. It has cinematic graphics and an array of entertaining visuals. You can swing on ropes, shoot cannons, and participate in drinking competitions.
How to Play Barbary Coast
With Barbary Coast, you get a standard 5 reel and 30 active payline slot. The coin bet range can be set between 0.02 and 5. In this non-progressive slot, you can place bets between $0.2 and $75 on the paylines. In the Barbary Coast jackpot, the highest possible payout is 12,500 coins. There are several bonus features, but this slot is missing the multipliers feature. It is wise to keep your bets per spin to a minimum to get the maximum out of the game.
Bonus Features for Barbary Coast
Barbary Coast does not have any scatters but there are other exciting bonuses including the Sword Fight Bonus, Drinking Competition Bonus, and Click Me Bonus.
Wilds
This feature is represented by the cannon symbol. You have an opportunity to win more as the reel will go wild if the symbol appears on the middle reel. Amazingly, you will get another chance to win even bigger, as the reel will remain wild and give you a go at another spin.
Grog Challenge Bonus
Grog Challenge Bonus introduces a second screen where you will participate in a drinking contest. Try not to focus on getting your opponent drunk, as you earn 300 coins every time he drinks. You will also earn 125 coins every time you drink so, try as much as possible to consume half as much as your opponent drinks to unlock the maximum win of 1150 coins.
The Sword Fight Bonus
The Sword Fight Bonus features a fight between your character and Blackbeard. You will choose strikes and blocks that will help Ben Sawyer defeat Blackbeard. Pay close attention and make the right choices as you will get rewarded for every successful hit and block.
The Click Me bonus rewards you with instant bonus credits. This is activated by getting at least three Ben Sawyer symbols anywhere on the reels.
You also get free spins when you get at least three parrot symbols. With these spins come instant bonus prizes, but you cannot trigger any other bonus feature with a free spin.
Compatibility of Barbary Coast
This game is available on every device that supports Flash from Android, iOs, Tablet, to your computer. You should make sure your device can handle the game's intense graphics.
Barbary Coast can provide you with all-day fun, and also earn you some money with a Return to Player (RTP) ratio of 93.8%.