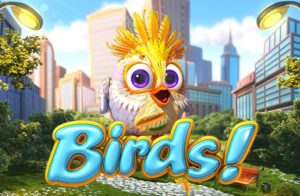 Birds! is a 3D video slot from the stables of Betsoft. It is a very entertaining and colorful slot where you will witness several birds lined up on power lines, as the name would suggest. Released in 2016, it offers awesome graphics and gameplay. If you are looking to relax and unwind, Birds! is the right slot for you.
Overview of Birds!
Themed around the countryside and car parks, this bright and colorful slot displays cute birds on three rows of powerlines. It also comes with a soundtrack that is soothing and perfect for creating a peaceful environment. Birds! offers a very unconditional "reel spin" as they fly off the lines and are immediately replaced with a new set after every spin.
How to Play Birds!
You should first understand the terms you need to meet before you start to enjoy this game. Deciding on the amount you wish to bet with per payline is crucial to ensure it is within your budget. Birds! is an exciting slot with 5 reels and 25 paylines that comes with free spins and other intriguing features that can lead to you winning big.
Bonus Features for Birds!
Free Flights
There is a meter positioned somewhere on the bottom left corner of the screen that will continually fill up each time a winning flight of birds flies off the reels, after each successive round. As soon as this meter reaches level 4, free spins are activated. Just as with every Betsoft slot, getting 4 consecutive wins will result in 8 free rounds. For 5 and 6, you are rewarded with 12 and 20 free rounds respectively. The unique element in this game's free spin is that for 7 and above, 14 free rounds will be initiated coupled with the regular number of triggering flights.
Double Up
Double Up is an exciting feature as lets you gamble with your existing win. Here, a golden coin pops up after every win in a base game. When this happens, you are required to choose heads or tails. At the toss of the coin, if your choice wins you will have doubled your win. You can, however, choose to use either 50% or 100% of your winnings for the Double Up challenge. For those that are interested in win big, this gives you a sporting chance to earn more cash.
Wild Symbol
A multi-colored bird represents the wild in this game. It performs the same role every other wild performs in Betsoft slot. The multi-colored bird can substitute for every other bird in the game, giving bettors a higher chance of landing winning combos.
Betting and Payout for Birds!
The coin value ranges from 0.02 to 1.00 per active payline. Per spin, you can place bets for as low as $0.25, up to a maximum of $125. This is amazing because it can accommodate both low and high rollers. This non-progressive slot offers a jackpot of $12,500 for five symbols. However, thanks to the way the game is built, you can go higher and earn more.
Compatibility of Birds!
Birds! can be played on iOs and Android Operating System. It is also available on your desktop. The Return to Player (RTP) ratio is at 96.48%, a nice number for bettors. With the free flights and an RTP this high, you could be smiling all the way to the bank with this exciting slot.