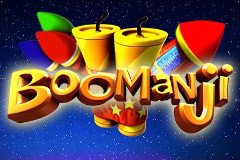 Boomanji is a slot game packed with special effects and eye-catching visuals. Betsoft has blended bright imagery and a fast-paced soundtrack with straight-forward gameplay, which includes five reels and 10 active paylines.
Overview of Boomanji
While Boomanji looks like a traditional slot game with three reels, the game has certain features that make it slightly more modern. For instance, the paylines operate in both directions, from both left to right and right to left, across the screen, providing plenty of chances for players to earn winning combinations on each spin.
How to Play Boomanji
The objective of Boomanji is to match up symbols in order from left to right across the screen, but also from right to left – a unique feature of the game.
Playing Boomanji is very straight-forward. The three betting controls at the bottom of the screen guide players to place their bet via increase and decrease buttons before spinning. The amount of credits can be placed first with a minimum coin size of 0.01 credits and a maximum of 1.00 credits.
Players can then choose the amount of paylines that can then be set. Paylines range in Boomanji from one (simply going from right to left across the middle line) to 10 in various directions across the screen. When selecting the amount of paylines, a visual line shows the potential winning combinations of symbols, making it clear how players can win on each spin.
Players can select the amount of credits to distribute on each line, which ranges from one to 10. Before spinning, an icon below the screen will show how many paylines are in play and how many credits have been selected for each line.
Once the bets have been selected, click 'Spin' and the slots will revolve into place. Any winning symbols will light up on the screen and the credits are deposited immediately.
Bonus Features for Boomanji
One bonus in Boomanji is the expanding wild re-spin. If you land on a wild symbol, which looks like a box of fireworks, in reels two, three, or four, these symbols expand to cover the entire vertical reel. Players automatically receive a winning payment every time this happens and a free spin is also awarded. On the free spin, the expanded cards are frozen in place, enhancing the chances of increasing winnings on the next spin.
Aside from this feature, Boomanji is not a game that's packed with bonus features, rewards, or extension rounds. As it's a one-dimensional slot game, there is no advancement to further levels or rounds during gameplay.
Betting and Payouts for Boomanji
Pay-outs on Boomanji are very frequent, and the 95% pay out reflects a fairly good chance of players increasing their original stake by playing the game. However, the limit of small increments per spin makes the overall pay-out relatively low for players in comparison to similar Betsoft games.
Compatibility of Boomanji
Boomanji is compatible with desktop and mobile devices including Android, iOS, and tablet. On mobile devices, there are fewer buttons and controls on the screen which makes for a smoother and quicker playing experience.