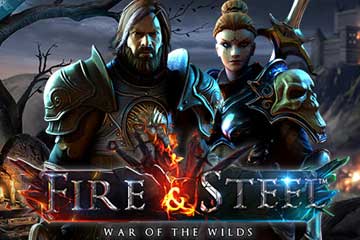 Fire and Steel by Betsoft is an epic fantasy slot game that has a theme along the lines of the ever-popular Game of Thrones. Betsoft is known for games with amazing graphics, and this 3D slot game is no different. However, it does have other aspects that are well worth checking out if you are interested in potentially playing this game.
Overview of Fire & Steel
This heavy fantasy-themed game comes with 5 reels and a total of 20 different paylines. It does seem to be crammed full of different features where the idea is the battle between good and evil. Even the reels are placed against the image of a battlefield. It comes with a range of symbols connected to this entire theme, so expect the shieldmaiden, swordsman, helmets, goblets, books, you get a general idea.
How to Play Fire & Steel
If you have ever played another Betsoft slot, then you will be familiar with the layout of the interface and how to play this game. First, select your coin size. Next, select the number of coins that you want to bet per line, and do remember that there are a number of lines available for you which will then change the level of bet that you place. You can then make things easier by placing the maximum bet possible by clicking the appropriate button. However, this will be quite a hefty sized bet. After this, you simply need to click on spin and then wait to see if you have been lucky or not.
Bonus Features for Fire & Steel
First, there's a wild symbol and in this instance, there are actually 3. While one is standard, both the shield maiden and swordsman act differently from the norm. With this, the swordsman creates a vertical beam to change cards while the shield maiden works on the horizontal. If both of these beams intersect, then you will also receive 10 free spins. Retrigger it during these free spins, and you will generate even more free spins and the possibility of increasing your winnings.
This bonus feature is certainly different from what you see elsewhere and the beam aspect is cool. Of course, the game also comes with a gamble option with any win, but that's the usual 50/50 shot.
Betting and Payouts for Fire & Steel
The maximum number of coins you can bet per line is set at $5 which does mean the maximum bet is $100 on this game. However, you can bet a lot less than this starting at 0.02. Of course, this will then change the payout you receive in accordance with the level of your bet. The maximum is set at 2500 coins if you replaying the free version while you should also know that the RTP is set at 96.5% which is higher than average.
Overall, this game is cool, has a different bonus, and provides you with more than enough opportunities to win with each spin. If you love the concept of fantasy and wonder how it would work with a slot game, then this is going to provide you with the answer.