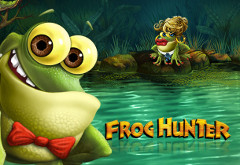 Frog Hunter is the creation of one of the best casino developers, BetSoft. The video slot features a jungle theme, two frogs, one male and the other female, several other well-paying symbols, multipliers, and bonus games.
Overview of Frog Hunter
This modern 2013 release sits on a three by five grid, have five-bet ways, and is nothing but fun. The graphics are vivid and smooth. The sounds of cricket, frogs, and cicadas create a jungle atmosphere, making your gameplay even more exciting.
The minimum a player can bet with is 0.20 credit and a maximum of 5 credits. Every button on the screen is clear with instructions making your navigation friendlier. Below is more information about the slot.
How to Play Frog Hunter Slot
When you click play, you'll get 1,000 credits in your virtual account if you're playing for free. If playing for money, the funds you deposit are converted to virtual coins. You need to divide the stake you want to place by the value of coins, ranging from 0.02 to 5 credits. The higher the coin value, the less balance you'll have in your virtual wallet.
You can use the – and + buttons to increase or decrease the coins you want to stake.
Find another section called Lines and increase or decrease the number of pay lines you want to play. These could include 1, 3, or 5 pay lines.
On the Bet bar, you'll see your bet – confirm that everything is as you wish and click spin.
After you click spin, symbols will start to appear on reels, including dragonflies or a water lily, leading to bonuses. If the lily falls next to a frog, a mini-game, dragonfly, is activated. Three or five lilies will trigger a bonus round called water lily.
Your goal playing this game is to help frogs get to the other side by jumping on lilies. Each successful jump earns you a win. You need to be wary of a crocodile who is the enemy of the frog. So if the crocodile swallows one of the frogs, the game comes to an end. The coins you get from a successful jump will, however, remain with you.
Other symbols you'll see and that will give you coins when they fall next to each other include cherries, melon, plums, and lemons.
Bonus Features on Frog Hunter
A bonus round begins when three or more lily pads appear in any boxes on the reel. A swamp will appear with two frogs at the shore. You have to click a water lily for the frog to jump. However, one of the lilies is hiding a crocodile. So if you manage to cross the frog to the other side without succumbing to the crocodile, you get all the coins you collect added to your virtual wallet.
If there are three water lilies and you manage to pass them all, you get a prize multiplied by 2-10 times with each jump. If you have four lilies, the win is multiplied by 5-20 times your bet. Five lilies will pay 10-20 times your stake.
The Compatibility of Frog Hunter
Frog Hunter is playable on both mobile devices and desktop. The same quality, vividness, and graphics apply whether you're playing on a smartphone or PC. But, if the game is not available for residents in your state, the casino you're playing the game from will alert you.