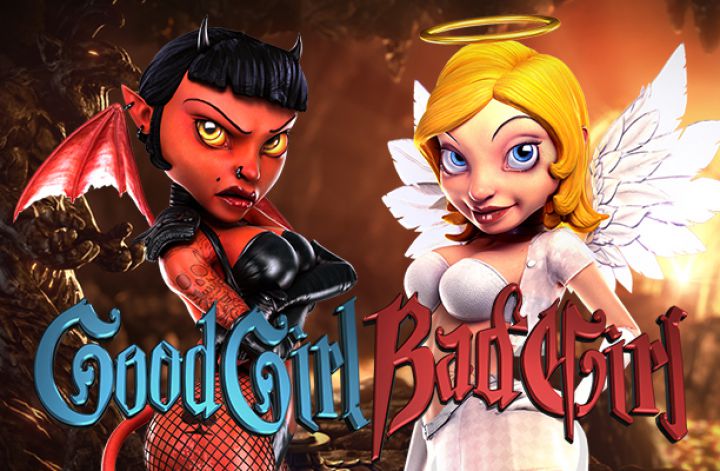 Good Girl Bad Girl is a fun slot game developed by Betsoft that plays into the theme of the angel on one shoulder and the devil on the other. With different bonus options built into the game to help with its gameplay, there are several interesting things to note with this game before you go ahead and throw yourself into playing it.
Overview of Good Girl Bad Girl
This game has your typical 5×3 reel and offers a total of 30 different paylines. The payline system is where there are a few changes to be aware of, compared to other Betsoft games. Not all 30 are available at the one time unless you specifically select that by moving the toggle, but they are split into two lots of 15, as they are divided evenly between good and bad. The good paylines run from left to right while the bad paylines run in the opposite direction. For symbols, you get a real mix, from the pitchfork for the bad girl, too cute kittens, and other 'nice' things for the good side.
How to Play Good Girl Bad Girl
Playing this game is generally the same with one small difference. First, you need to choose if you are playing on the good side or bad side, and this is achieved via the scale at the bottom of the screen. Leave it at the purple section to play both.
Once you have selected your side, this game then follows familiar steps to anybody that has played slots before. First, you need to select your coin size. Next, you need to place your bet per line before then seeing how that changes your total bet. You also have the option to place a maximum bet or just hit spin.
Bonus Features for Good Girl Bad Girl
As there are two sides, it makes sense there are two wilds as well. The good side gets the halo while the bad side gets the pitchfork. Each wild brings with it a number of multipliers. While you do win coins if you land five of the wild symbols, the amount varies depending on whether you have the good or bad.
If you land both wilds at the same time, then it opens up the special 'click me' bonus game. Exactly which one you play depends on whether you are on the good side or bad side. If you are playing both options, then you get to choose and the click bonus game that has four rounds to play. Here, you get to choose from boxes, behind which are prizes.
Betting and Payouts for Good Girl Bad Girl
The game comes with a low minimum bet as it's set at 0.01 per line, so if you only select one line then that's the least you need to pay to take part in the game. Land at least three girl symbols to trigger a payout starting at 20 for 3, followed by 90 for 4, and 360 for 5. However, the big payouts are with the wilds, where you're able to get up to 1000 credits for landing 5 of them.
In short, this game does have a cool theme attached to it, and the ability to choose whether you want to be good or bad is a nice touch. The minimum bet is also a nice feature, and overall this slot game comes highly recommended.