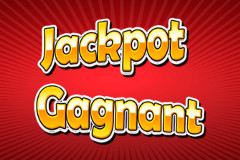 Jackpot Gagnant is an old school original three-reel slot game by BetSoft. This online slot is quite simple and straightforward, but unique in its own way. It is a classic five pay-line slot.
Overview of Jackpot Gagnant
The word Gagnant means "to win" in French, and Jackpot Gagnant is quite like a classic Vegas slot with its bright flashy lights, mystery symbols, and retro noises. Jackpot Gagnant is as old-school as they come, but who doesn't love old school, right?
How to Play Jackpot Gagnant
Old school slots are always uncomplicated, but by no means unchallenging, and Jackpot Gagnant is a fun no-nonsense slot.
As always, you have to begin playing by selecting a wager amount. How? Click on the coin control icon to select a coin size. Next, pick how many coins and pay-lines you wish to play with. The minimum bet amount is 0.02, and the maximum is 1.00. You should check the pay-table to make certain what your jackpot is worth because your wins hinge on the amount you wager.
Once you are done picking your wager amount, click on the 'spin' button to get to playing and winning. The reels spin, and then you get to gather up to six different symbols for each round. The payouts are displayed at the top corner in coins. There are regular payouts depending on your wager amount.
Jackpot Gagnant does not offer much in special features, but there are mystery prizes to be won!
Bonus features for Jackpot Gagnant
The mystery prizes are the bonus feature on this online slot. Jackpot Gagnant offers you chances to win huge prizes while you play for real cash. You can get these prizes by betting more money in each round. The bigger you bet, the bigger your wins!
To win the mystery prizes, aim to grab two to three of the lady icons. These mystery prizes are worth 10,000 coins, and their worth increase with the increase in your betting amount.
These lady symbols can be used to win other prizes by playing the 'Super meter'. The super meter round can be accessed by betting at least 20 coins in each round. When you have collected 20 coins, you can either cash it out to your balance, bet it again on the 'Double-up feature', or spin again to pass it on to the super meter and bet it there. If you do pass it on to the super meter, you will have to spin again for the very same payouts, plus mystery bonus prizes offered by the lady symbols.
Don't wish to use your money for the super meter? You can use the double-up feature to bet the money in a different way. This feature is activated after you've collected your payout, and you get to pick either heads or tails. If you guess correctly how the spinning coin will land, you can double your winnings.
Compatibility of Jackpot Gagnant
Unfortunately, Jackpot Gagnant is not available for download, and only just recently became available online for HTML 5 desktops. If you are a fan of old school slots, give this game a try.