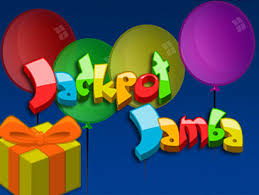 If you need a game to get you into a party mood, Jackpot Jamba will do just that. Jackpot Jamba is a party themed game from Betsoft, with party-themed symbols ranging from cocktails to kazoos and balloons.
Overview of Jackpot Jamba
Jackpot Jamba is one of Betsoft's older games, so the design is pretty basic but still great on the eyes. The design does not distract from or lessen the festive party atmosphere of the game or its compatibility. It also features a progressive jackpot and a bonus round. And, if you are a fan of progressive jackpots, then you should definitely check out Jackpot Jamba.
How to play Jackpot Jamba
Jackpot Jamba is super fun and easy to play. For betting, the coin range value starts at 2 cents and ends $1, and the maximum bet for a spin is 45 coins, so your max bet is $45. To win the progressive jackpot, you have to spin five of the jackpot symbols and get all five jackpot symbols while playing at the max bet.
The user interface is also pretty straightforward. Its features are marked with tabs for your credits, your balance, your bets per pay-line, and your coin value, while the payouts for each symbol are shown on the payout section. Also, you can play all lines when you click the maximum bet button if you want the chance to win big.
Bonus Features for Jackpot Jamba
Jackpot Jamba is a five-reel slot with three rows and nine pay-lines, and there is some party music playing in the background to keep you in the mood. Jackpot Jamba is celebration themed, so it's the perfect game to play to help brighten or lift your spirits, although you are also playing to win. The payout has a unique layout, as every pay-line except three has directional variations.
As the reels spin, the background is filled with jazzy music while a solo saxophone tune signals a win. Jackpot Jamba also features wild and jackpot icons, though it doesn't come with a scatter symbol, free spins, or multipliers. The wild icon can substitute any icon on the reel, except for a jackpot icon, and the progressive icon ensures that you win, big time.
The bonus round is great, and it offers an increase in the credits you've earned. To get to the bonus round, you have to play the slots until you get five-party 7s. During the bonus round, you then get to select one of many balloons. When you do this, the balloon then bursts open to reveal the credits you have earned.
Compatibility of Jackpot Jamba
Besides being easy to play, Jackpot Jamba also requires no download. You can play without downloading the game onto your devices. Jackpot Jamba is also compatible with Linux, Windows, and Mac computers/laptop operating systems.
It is also available on all mobile devices, including iPhone, iPad, Android phones, and tablets.
Sure the design is basic, but the best games are bright and straightforward to play and win. This is a perfect holiday game to play with friends as it promises a fun and exhilarating experience.