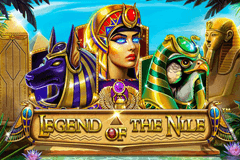 From the great dunes of Egypt, BetSoft has created another 3D slot you can get lost in. Everyone knows that Egyptian themed slots are a dime a dozen in the casino industry, but BetSoft takes their recreation seriously, and its software developers have done a good job with this slot. You may feel that these Egypt-themed games are overdone and a little stale, but you won't be saying that when you play Legend of the Nile.
Overview of Legends of the Nile
Betsoft never disappoints with graphics, and we can all attest to that after playing this offering. Legend of the Nile comes with bright symbols that flow right into the theme. Each symbol is easy to spot as the reels are positioned transparently on a backdrop that shows the Titular river, and also shows other Egyptian landmarks you've probably heard of like the Sphinx and the Great Pyramids.
With all of these symbols, details, and information, one might expect a crowded screen, but that is not the case here as the layout is clear and open.
How to Play Legends of the Nile
You can choose from 5 different bet levels. The basic level costs 30 coins for each spin, and the 5th level will cost you 150 coins per spin. This makes the game suitable for both small-time players and those with higher limits. Even better, there's a free play option if you want to try out the game without risking any money.
This slot does not use reels and paylines, instead, it works in a cascading reel format, like the popular social game Candy Crush. When you spin, symbols drop from the top of the screen, and so you have to match a cluster of 4 or more identical symbols to win. The symbols must be matched horizontally or vertically, never across the screen. When you get a combination, the winning symbols explode. This continues until there are no possible wins left on the screen. Again, just like Candy Crush.
Pharaohs and Scarabs pay the most, with 200 coins when you hit a cluster and as much as 15000 coins when you hit 20 in one group. Birds and hieroglyphics are low-value symbols, while Ankhs and eyes are in the middle.
Bonus Features for Legends of the Nile
There are three separate bonus tracks, and this makes certain that there's something to play for on every single spin.
Three special features are found on this slot, and each one is tied to an Egyptian god, following the theme. Each of them can get you free spins eventually.
One of these special features is the Ra symbol. For every Ra symbol you land on your screen you automatically win some money; the more of them you land, the bigger your rewards. If you land 8 Ra symbols, you'll earn 8 free spins.
Ra also unlocks some of the biggest rewards in this slot. When you hit 17 or higher, you win a bonus prize of 400x the amount you bet. When you hit 20 on one spin, you get the slot's progressive jackpot. Mind-blowing stuff!
The symbols of the other gods work differently. You will only get something for them when you get a cluster of these gods or at least 4 of them together. You earn 10 free spins on a special set of reels when you fill the trail of either of the gods. You also get a payout multiplier depending on the size of the cluster.
Compatibility of Legends of the Nile
The slot can be played on any device with a browser.