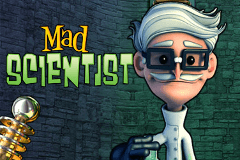 Nerdy scientist, check. Secret laboratory, check. Weird experiments, check. It's the Mad Scientist online video slot! The mad scientist, Dr. Prescott, is formulating a serum that will turn objects into gold, and who doesn't love gold? This mad science-themed online video slot is set with five reels and twenty pay-lines. As you can already tell, this game has some crazy interesting features and symbols.
Overview of Mad Scientist
In this game, you get to assist a crazy little scientist test his serum on different objects. The graphics in this slot are incredibly well designed, and there is also a driving soundtrack to prod you on in your research.
How to Play Mad Scientist
It is absolutely necessary to first select your wager amount. The minimum betting amount in the Mad Scientist is $0.02, and the maximum betting amount is $0.50. You can set your betting amount by clicking on the +/- buttons at the bottom of your screen. There is a total of twenty pay-lines, so you can bet up to five coins per pay-line. The symbols in this lot are, of course, all science-themed. They include the test tube, the atomic model, the chalkboard, the switch, microscope, gigawatts meter, and the high voltage. These are the main symbols in the Mad Scientist's lab.
There are high paying symbols like the beaker symbols, and there are low paying symbols like the biohazard symbols. When you align three of the same symbols, you get five coins. When you align up to five of the same symbols, you get a hundred coins.
There is also an autoplay feature, like in most Betsoft slots.
Bonus Features for Mad Scientist
First, there is a bonus round. This is activated by connecting three test tubes in an active pay-line, which in turn triggers the science experiment, where you will be awarded three more bonus round symbols which will multiply your wins. To begin the experiment, you have to select any four objects, and the scientist will turn them to gold, silver, or bronze. Then, you will be able to collect your wins and return to the original game.
Next, is the Wild'o'cution feature. Sounds wild, doesn't it?
Well, this feature is activated by obtaining the special wild symbol. When this feature is activated, the Tesla coils electrocute themselves, changing the symbols in between them into wild symbols.
There's also the 'pick me' feature, which is activated when you match three or more biohazard symbols on an active pay-line. This brings on winnings ranging from 125 to 175 coins. These winnings will be multiplied by your wager for each pay-line, and the number of pay-lines housing the cleared biohazard symbols. That's some cool cash right there.
Finally, there is the wild symbol, represented by the chalkboard, which stands in for all the other symbols on the reels, save for the scatter symbol, which is represented by the switch.
Compatibility of Mad Scientist
The Mad Scientist slot is compatible with all Windows and Linux operating systems. Quite unfortunately, this video slot is currently unavailable on mobile. But, on the other hand, this game is much better on a big screen.