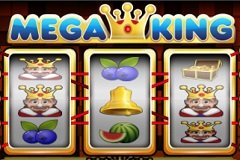 Developed by Betsoft, Mega King is a classic styled slot game, but this time it has been done on a slightly bigger scale. So, even if you vowed to never go back to those classic ways of doing things, Mega King should have enough about it to grab your interest and to encourage you to give it a shot. This is bright, it's bold and it certainly feels far more authentic than other slots out there.
Overview of Mega King
The game comes with the classic 3 reels setup as well as having 5 paylines. This is way less than modern style video slots, but that doesn't mean it's lacking in fun or options. With this version, you will notice it has the more common symbols, so expect lots of fruit. Also, there's a lower and upper reel with both having the same setup. However, the upper game has to be reached after winning on the lower reels, and that is where you could get closer to the jackpot.
How to Play Mega King
It's the actual gameplay where things are different from what you may be used to. First, you choose your bet, which is either 1 or 10 credits, and the paylines with this all happening on the lower reels. When you win, your prize is sent to the upper reels. There, you have the chance to play again, but this time betting 20 or 40 credits from your supermeter balance. You still get the same maximum payouts, but the base payouts for the lower paylines is higher than you get on the lower reels.
Bonus Features for Mega King
Betsoft has sought to stick as close to the classic theme as possible, so that means that you probably already expect very few bonus features. However, this is an area where the game is seriously lacking to the point where it pretty much doesn't even exist. In fact, the only aspect that could be viewed as a bonus feature comes with the King appearing at the same time as a winning payline. At that point, you are awarded a random prize.
Betting and Payout for Mega King
We have already mentioned some of the figures when it comes to betting and payouts. First, you can bet 1 or 10 credits on the lower reels. Payouts vary depending on what you bet and the three symbols that match up on the reels. Land 3 treasures on a 10 credit bet and you will then hit the jackpot of 2000 credits. Land the Kings and you can win anywhere between 20 and 2000 credits.
Even when you move to the upper reels and bet with 20 or 40 credits, the jackpot remains at 2000 credits. However, landing cherries or lemons will net you 100 credits or 200 credits depending on your bet.
Overall, the lack of bonus features, and even nudges, does mean this game is missing something that could have just elevated it to another level. However, the game itself runs smoothly, and the graphics are decent. The jackpot is quite low, but there are still enough potential ways to win to make the game worth checking out.