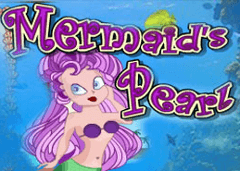 Mermaid's Pearl is a fun-filled slot game that promises you more ways to win than you thought possible. In fact, we are talking about a grand total of 3125 ways to win, and that is pretty impressive. Set to a general mermaid theme, it certainly appears to contain a number of features that are well worth exploring as you venture into the depths.
Overview of Mermaid's Pearl
Set across 5 reels, it's no surprise to discover that the symbols in this game are all focused around pearls, a mermaid, and general underwater items. The graphics are pretty cool and do help the theme but what the developers have done with this game has incorporated a virtual celebrity for the game, and in this instance, it's the character 'Sprite'. What you then get is a series of poses by Sprite as you play the game set against a coral reef. Also, this game has a potentially huge jackpot, but you need to be exceptionally lucky to land it.
How to Play Mermaid's Pearl
Playing this game is as easy as it can get. Select your bet and wait to see what happens when you hit that spin button. Also, with so many ways to win it seems almost impossible for you to not get something back from your wager. For playing it, there's nothing else to it.
Bonus Features for Mermaid's Pearl
One of the main bonus features is focused on pearls. They appear at random and need to be collected. They can then open up the possibility of free spins or prizes, so you certainly want to keep an eye out for them. Anywhere between 15 to 25 pearls can then result in a multiplier being applied.
In addition, when you get to over 300 pearls it opens up a shipwreck bonus. Then, you get a second screen where you need to pick from the options you see before you. Once you do so, you win a prize, so it's a pretty basic bonus. Then at 600 pearls, you get some free spins with only pearls and blank spaces appearing for 10 spins. This then means you stand to win a number of prizes depending on the paylines.
Betting and Payouts for Mermaid's Pearl
Betting and payouts are where things start to get a bit more interesting with Mermaid's Pearls. First, the bet range is from $0.2 to $50. The cool part is that the maximum win is going to be 2500x your stake and that comes to $125,000 for just a single spin. Also, this game comes with a 97% RTP, so you can see how the odds of you winning are certainly in your favor.
Overall, Mermaid's Pearls is an interesting game that appears to lean quite heavily on providing you with wins on a regular basis. While most will be on the small side, there are multiple ways in which you can increase your winnings through multipliers and free spins, so keep an eye out for those pearls as they could ultimately release some riches that you never knew even existed.