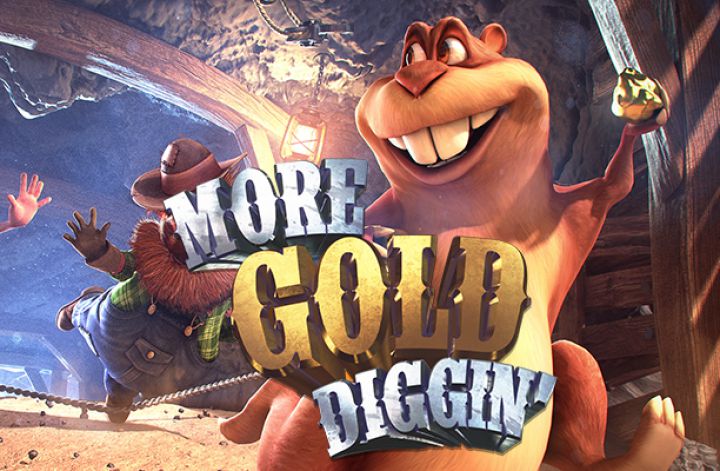 More Gold Diggin is the sequel to the previous hit slot game 'Gold Diggin' by Betsoft. Once again, you have two redneck gold diggers as the main characters of this theme along with ample opportunity to come up with some winnings. But what else should you know about this slot game?
Overview of More Gold Diggin
Set over 5 reels, and with 25 different paylines, the theme is all about mining for gold. As a result, the symbols used in this game reflect mining with different colored blocks to represent various gems and stones found in mining. Our two intrepid diggers stand either side of the reels while a cheeky gopher does his best to taunt them. The overall feeling with the theme of this game is one of fun, and then you have the bonus section where the fun is further enhanced.
How to Play More Gold Diggin
If you have ever played a Betsoft game before, then the interface will be very familiar to you. The key is in setting your betting range and also deciding if you are playing the free coins version of the slot or the cash version. After setting the betting range, you also need to decide on the number of paylines you wish to bet on. Remember that this will change the total you bet, but Betsoft makes it easy for you to see the end total before you hit spin. After selecting your bet size, you simply need to hit the spin and sit back to see if luck is on your side.
Bonus Features for More Gold Diggin
With the bonus section, the first thing to look out for is three sticks of dynamite as they represent the wild symbol. Land them, and each symbol, aside from the scatter, will change with this really increases the chances of you winning on your spin. Also, when you land them it brings in exploding symbols, and this is where multipliers come into effect. When they explode, they are replaced with other symbols, so you have even more chances to win.
Land three barrels of dynamite and you then open up the free spins section. However, they must be on the first three reels and on an active payline to qualify. Land exploding symbols on your free spins and you trigger the multipliers section once again, and this time they can be as high as 15x your bet.
Betting and Payouts for More Gold Diggin
The bet range for the coins version is set between 0.01 and 1. If you are playing the cash version of this game, then the minimum bet is $0.02 while the maximum bet is $125. With this game, the RTP is at 94.53% which is slightly below average for this type of game. When it comes to the jackpot, then the cash version can lead to a jackpot of over $46,000 but that in itself requires a huge amount of luck.
Overall, More Gold Diggin is a fun game that should offer enough to keep you entertained for some time. Yes, the RTP is slightly lower than a number of games, but there are still enough paylines out there for you to be in with a chance of getting something back for your bet.