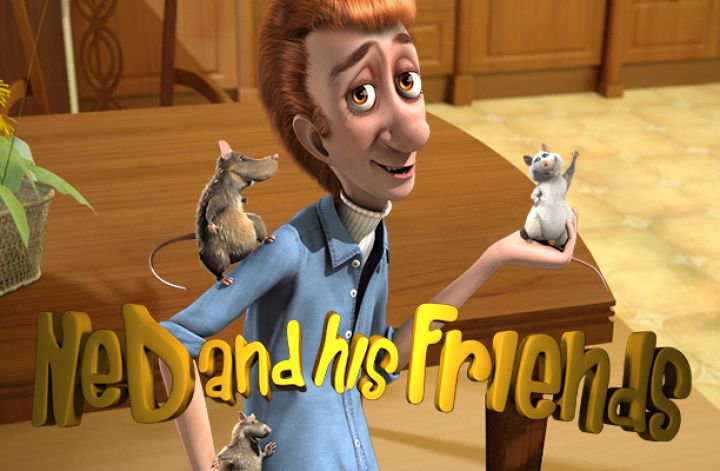 If you are looking for a slot game that has a feeling of being cute and cuddly, then Ned and his Friends by Betsoft may very well be the thing you are looking for. In this instance, Ned sits in his apartment and is largely entertained by his friends, the rats. It may sound strange, but this is a theme that undoubtedly works.
Overview of Ned and His Friends
The first thing you notice about this game is that the animations and music are outstanding. They add a huge amount of fun to a game that promises so much. In this game, you get 5 reels and a total of 30 different paylines, so there's ample opportunity to go ahead and win. It also comes with some rather cool symbols with Ned himself, the rats, his girlfriend, hamsters, and some others you may not expect from this particular theme.
How to Play Ned and His Friends
Playing the game is easy, and it also uses the normal interface that comes with the majority of Betsoft games. First, choose your coin size. Next, choose the number of bet lines you want to bet on. Then, if you want to simply place the maximum bet, then hit the max bet button. After that, choose spin and sit back to see if you are indeed lucky.
Bonus Features for Ned and His Friends
This game is full of bonus features, but the rate at which they appear does vary quite considerably. First, you have the singing rats bonus round. You get this when you land 3 rat symbols and you will get up to 5 free spins. Next, there's the 'click me' bonus and you get this if you land on 3 tails. At this point, you are taken to a second screen where you get to select a rat and win a prize. Finally, land 3 girlfriend symbols and you get another bonus. After seeing the rats, she faints, so choose a rat to try to wake her up and win a prize, but choose wisely as the rat needs to serenade her in order for you to win big.
Betting and Payouts for Ned and His Friends
When it comes to the coin range for betting, then it can be anywhere from 0.02 to 0.5. This maximum is lower than other games. There's also the limit of 5 coins per line, so if you then strike the jackpot with that maximum bet, then the payout you would receive is set at 1,250 coins. While this is lower than you get elsewhere, the RTP for this game is 97%, so this is above average and should mean you can win on a pretty regular basis.
Overall, Ned and his Friends is a fun-filled game with a cool theme that's different from the others out there. It has a higher than average RTP, several bonus features, and a lower maximum bet than you may be used to playing elsewhere. In short, this game is right up there as one of the best produced by Betsoft and it's well worth checking it out.