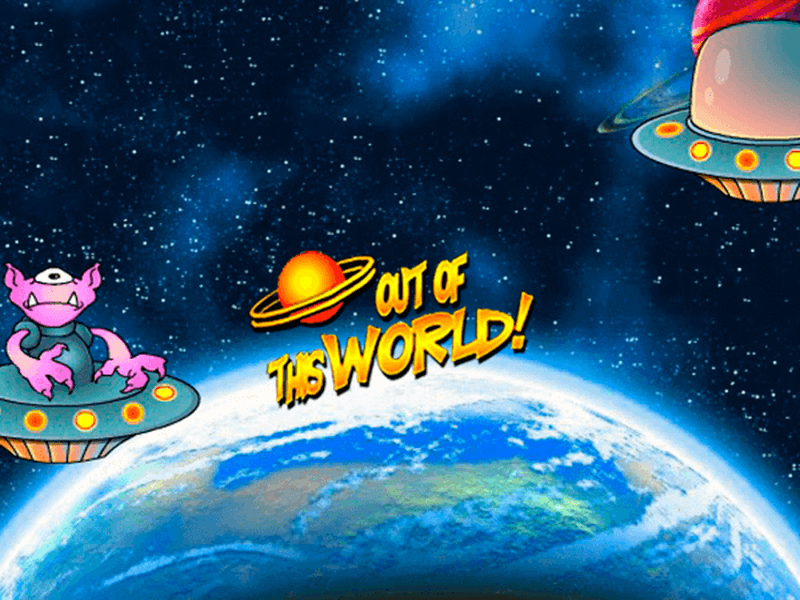 Out of this World is a cool slot game that combines two highly popular themes, outer space, and Ancient Egypt. While that may sound different, it does make this game stand out from the crowd. But, what else is there to know about this game?
Overview of Out of This World
This game offers 5 reels and a total of 20 different paylines. The graphics are bold and large with them filling the screen. The symbols themselves are placed within the windows of a spaceship while the symbols themselves include pyramids, planets, and weird-looking spaceships along with others. Basically, the graphics and layout are really out of this world themselves making it the perfect name for the game.
How to Play Out of This World
Playing this game is very easy even if you are new to slots. To begin with, you need to select the size of the coin to bet with. Next, you need to select the number of paylines that you wish to play with but do remember that this is going to then have an impact on the size of bet you have to place. The bet per line will then show you how many coins you are choosing to bet with which is also then multiplied by those lines. Finally, you can choose to either just hit spin to go with the bet size that you have set or, alternatively, you can hit max bet to place the highest possible wager.
Bonus Features for Out of This World
In order to access the bonus features, you need to go ahead and land three flying saucers on the reels. When you achieve this, it opens up some bonus chances to win big. Also, even though there's no wild or scatter symbol, there is a special portal symbol to look out for.
With this portal symbol, it lands after the reels have stopped and it means you will win some prize. It does this by swapping all of the symbols on reels 2,3, and 4 with the same symbol this boosting your ability to win. If luck is on your side and you have those symbols on the other reels, then you do have 20 different chances to win.
Betting and Payouts for Out of This World
The lowest bet available on this game is set at $0.2, and that also means it only costs you $0.01 for each line. The maximum bet to be placed is set at $10 per line which then equates to an overall maximum bet of $200. This means it's the perfect game for both low and high rollers. When it comes to the payouts, then the best symbol for you to land is the alien Sphinx. Land it on three reels and receive 40x your stake. Land it on four reels and get 100x your stake while getting it on all five reels and you receive 500x your stake. Prizes linked to card suits are the lowest but can come up quite regularly since this game has an RTP of over 96%.
Out of This World is a cool theme that is certainly different from the norm. It does offer a number of ways to win and provides a reasonable sized return even when placing small bets. With large, colorful graphics that fill the screen, it's the perfect game for people starting out with slots as well as the more experienced.