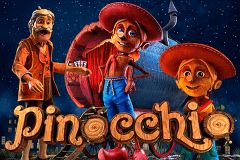 With the name of this slot being Pinocchio, it's easy to guess what the overall theme of this slot game by Betsoft is going to be. However, what's it like to play, and is it well worth checking out?
Overview of Pinocchio
This game offers 5 reels and a maximum of 15 different paylines, which is slightly lower in number than the majority of slot games. It also focuses on two characters, Pinocchio and Mister Geppeto, and they appear at various times throughout the game. The graphics have a wooden element to them, which fits in perfectly with the game, with the symbols themselves further enhancing the overall theme. With this, you can expect both characters to appear as symbols along with bright letters, a cage, a gypsy caravan, and other symbols linked to the story itself.
How to Play Pinocchio
The first thing you need to do with this game is to select the size of coin you wish to place as a bet. After selecting this, you can choose the number of paylines you wish to activate. This number can vary between 1 and 15, but it does go up in pairs. You will also then choose the bet per line, which is then going to be multiplied by the number of lines you have just selected to ultimately give you your total bet. This figure is clearly displayed, so there will be no shocks or surprises. Finally, hit spin to activate everything.
Bonus Features for Pinocchio
This game is different in that it offers three different worlds to play in with these being the workshop, classroom, and puppet show. In the workshop, either the wagon or book will be added to a meter for the other two worlds. Reach 10 and move to another world with the wagons taking you to the classroom and books to the puppet show.
Also, Geppeto works as the wild scroll which spins all reels again for free when in the workshop. If you move to the classroom world then the book symbol acts as the wild scroll, but only if it lands on reels 1,3 or 5. In the show world, the wagon is the wild scroll, but only when it lands on the middle reel.
Finally, there's the 'Real Boy' mode where collecting five of them leads to additional bonus features and this can include various free spins.
Betting and Payouts for Pinocchio
The betting range starts at 0.02 and goes up to 1 when talking about coin sizes. So, the absolute minimum bet is 0.02 with one line while there is the option of 1 coin on each of the 15 lines. However, you can then choose your bet per line which can vary from 1 to 5 per line leading to the maximum bet. For the payouts, then there is some variation. Match 3 letters and receive a payout of 5 coins. Match 4 symbols and the payout varies between 15 to 75. Match 5 Pinnochio symbols and receive 500 as the jackpot.
Pinnochio is a fun game, but the payouts are perhaps not as you would expect from Betsoft. In saying that, the minimum bet is very low making it ideal for people wanting to just get to grips with a slot game.