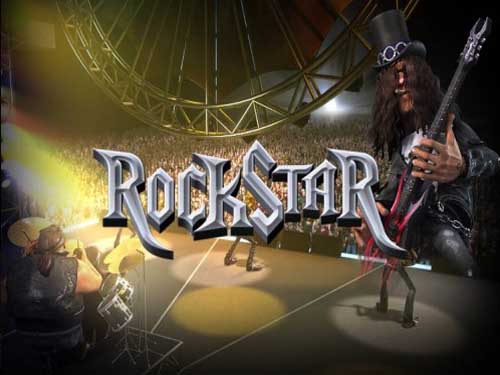 Rock Star is a slot game developed by the busy team at Betsoft that comes with a musician based theme. Now, it's not the first time that music has been used in this way, so it's always interesting to see how this version tries to separate itself from those that have come before.
Overview of Rock Star
This version comes with a seriously cool 3D video intro, and it has to be one of the best around. Also, it has 5 reels and 30 paylines, so you have ample opportunity to grab some wins in various ways. The reels are set against a rock stage with the various lights on top, while even the buttons on the bottom come in the shape of guitars, and it all looks really cool. The symbols on the reels are along the lines you may expect. Look out for platinum records, concert tickets, different rock icons, contracts, magazines, and alcohol.
How to Play Rock Star 
Playing the game is along normal lines in that you need to start off by selecting the coin denomination. After clicking through the arrows to alter the value, you then need to choose how many coins you want to bet per line as well as the number of lines. This changes the total value of your bet, so check out the cost before hitting that spin button.
Bonus Features for Rock Star 
This game comes with 2 wild symbols, with the first one being the gold disk. Land that, and you multiply any win by 2x. However, land the platinum disk, which is the other wild, and you multiply winnings by 5x. At the same time, if both the gold and platinum appear, and contribute to you landing a winning line, then the winnings are multiplied by 10x, which is pretty cool.
Another bonus occurs when the red or black guitars pop up on the reels, as this triggers the 'epic solo' bonus. With this, you get 3 prizes that are selected for you completely at random, so you have to wait to see what you can end up winning.
Finally, if you manage to land at least 3 of the VIP tickets on a payline, then you trigger yet another bonus round, known as the 'are you ready to rock' round. Here, it kind of copies Guitar Hero in that you win coins for every note you hit.
Betting and Payout for Rock Star 
For the betting range, you are looking at anywhere between $0.02 and $150 per spin. This is due to the maximum bet being $5 per line and the game consisting of 30 paylines. However, you can choose a single payline at $0.02, and that is perfectly fine. For payouts, the cash jackpot is pegged at $5000, which is still not too bad. Of course, you want to try to land those wild multipliers to boost your winnings as well.
Overall, Rock Star is a cool slot game that is well thought out and has some amazing bonus features that are unique to this theme. We love how it has been designed as well as how it plays, and we feel it's worth giving this game a shot.