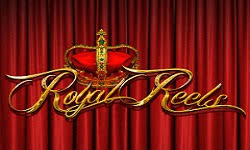 Royal Reels is a slot game developed by Betsoft that seems to suggest that it will be fit for a King or Queen. Now, other slots have come with a theme of opulence, so how does this version match up?
Overview of Royal Reels
This game has 5 reels and a total of 30 paylines, so you stand a good chance of landing some wins if you are playing all 30 at the one time. The design of the game is perhaps not as over the top as you would expect, even though it does come with a red and white theme which does at least kind of fit in. The symbols that appear also includes the normal card symbols, but they have been made a bit more elaborate with jewels attached. Aside from those, look out for crowns and gems.
How to Play Royal Reels
Setting everything up in order to play the game is very easy to do. As always, you need to select the coin denomination by clicking through the values. Once you are happy, you then need to select the size of bets per line. Finally, choose the number of lines you want to bring into play, and as you do this, check how the total value of your bet will change. At this point, hit the spin button to see how the reels land for you.
Bonus Features for Royal Reels
Royal Reels does have different bonus features included, and the first one to mention is the sparkling diamond as the wild. With this, it's going to swap itself in for any other symbol aside from the crown and the 'click me' gem stones. However, by swapping itself into the game, it does boost the odds of landing winning lines.
The circular emerald, diamond, and sapphire will trigger the 'click me' aspect. The icons will flash across a payline, and you then have the ability to choose one of them to reveal some kind of prize. This can be quite fruitful if luck is indeed on your side.
Finally, land 3 or more crowns for an extra bonus game. However, they need to appear on the first 3 reels. At this point, you get four crowns to choose from and are given an instant prize.
Betting and Payouts for Royal Reels
The coin bet range varies from 0.01 to 1, and this is standard. For the actual bet size, then the minimum you can place is $0.01 for the minimum coin denomination on one line all the way up to $150 for the maximum bet. You can end up winning as much as $7000 if you trigger the jackpot, but there are a wide range of other wins that still deliver a healthy return on your bet.
Overall, Royal Reels is a perfectly adequate slot game without doing anything to set the world on fire. Yes, the bonus games are slightly different and enough to keep your interest, but the graphics and layout could have been better. In saying that, at least the betting range starts off really low, allowing you to experience the game without risking too much money.