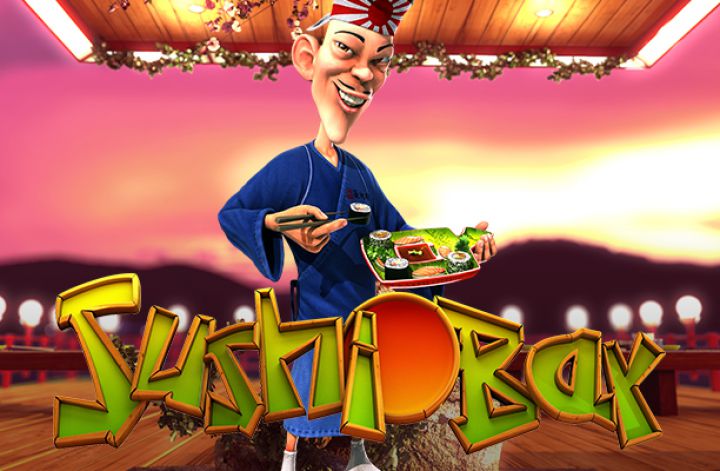 The first thing that strikes you about Sushi Bar is that this is a no-frills slot game. Created by Betsoft, this game is different from their norm where graphics and features attempt to make a game stand out from the crowd. With Sushi Bar, Betsoft has gone back to basics, but that is not necessarily a bad thing.
Overview of Sushi Bar
Sushi Bar has 5 reels and there are a total of 25 different paylines. In other words, there are lots of opportunities to win. All of the different winning opportunities run from left to right, and the game also contains a total of 8 different symbols. These symbols are based on poker cards even though they have been adapted to resemble items connected to sushi. Ultimately, this leads to you hoping to strike payouts with teapots, knives, and plates.
How to Play Sushi Bar
Playing is easy. The objective is to spin the 5 reels to get a winning combination. To increase or decrease coin size, you simply click on the bet box. Click on the spin button or, alternatively, use the auto-spin to run through a pre-determined number of times. Get a winning combination, and it's shown on the reels along with what your winnings will be. You will also notice a total bet figure helping you to see what you are gambling on this round.
Bonus Features for Sushi Bar
Sushi Bar is different in that there are no bonuses via a second screen, and what you see with your spin is what you get. However, that's not to say that there are no bonuses at all. Instead, you can get bigger payouts thanks to two special symbols, so keep an eye out for anything related to soy.
These two 'wild symbols' also give you the added bonus of a 2x multiplier, but that's not the only bonus. Instead, there's also the fan, and this is going to act as the scatter symbol in Sushi Bar. The cool thing is that you win bonuses if this symbol appears on the reels. Get 2 fans, and that means 50 credits bonus. Get 3 fans and you go to the free spin section where you will win anywhere between 8 and 20 free spins. Oh, and you also get the 2x multiplier on any winnings during that time as well.
Betting and Payouts for Sushi Bar
With Sushi Bar, you are able to bet anywhere between $0.02 and a maximum of $0.5 for coins and cash bet anywhere from $0.02 to $62.50. However, with coins, you have a maximum bet of 5 coins per payline which does translate to a total of 125 coins due to that total of 25 paylines.
For the jackpot, the maximum with coins is 10,000 coins If you strike it lucky after placing the maximum of $0.5, then you stand to win $5000.
Overall, Sushi Bar is a basic slot game, but it's still a whole lot of fun. The sushi theme works well and, to be honest, if you are new to the world of slots, then this is the kind of game that is perfect for you. Easy to play, no elaborate setup or bonus system to worry about, just a simple, straightforward slot game.