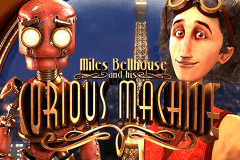 The Curious Machine focuses on a theme surrounding a typical geeky inventor and the crazy things he conjures up. Created by Betsoft, this 3D styled game will take you back in time and the entire thing is accompanied by cool graphics, funky music, and a theme that is different from pretty much everything else out there.
Overview of The Curious Machine
This game comes with its own bold graphics and some pretty unique reel symbols. Talking of reels, it takes a 5 reel approach while there are also 30 different paylines. Another point, the full name of the game is actually Miles Bellhouse and his Curious Machine, so don't be confused by the two names as it's the same game.
The theme has undoubtedly been well thought out even down to the wild symbol turning into a vortex to tap into the theme of traveling through time.
Bonus Sections
There are a total of 3 different bonus rounds with The Curious Machine called 'Blast to the Past', 'Rewind', and the 'Travel Through Time', so they do all fit in with the theme. For 'Blast to the Past' you access it if you strike 3 dinosaur symbols and you receive at least 3 free spins and the chance to multiply your winnings by up to 5x. With the rewind option, it gives you another spin when you have previously come up empty to further increase your chances of winning. With 'Travel Through Time', you activate this when you hit three-time machine symbols. You then receive free credits ranging from between 200 to 1500 depending on how far back into time you go.
How to Play
This game is easy to play and there are both free and cash options available. When starting, select your total bet for the line as well as the number of paylines you want to activate. You will then notice the coin option changing accordingly. When ready, spin that wheel and see what happens.
Betting and Payouts
With betting, then there's clearly a difference between coin games and cash games. The bet can range between $0.60 and $150, so there's a huge variation. Also, the RTP is around 95.5%, so it does offer some promise regarding winning even though there are other slot games out there that are higher. In this instance, the maximum payout you can hope to receive is set at $12,500, which is still pretty impressive although it's lower than other games. If you want to play the free version, then your coins range starts at 0.02 to 1.00.
This is an easy game to play, and it is certainly enough fun to grab your interest. It does provide you with enough options and with 30 different paylines, the chances of you getting some kind of return for your hard work is pretty high. However, the actual potential wins are relatively low, so keep that in mind when starting out. The graphics are cool, the theme is fun and generally, this is a well put together game perfect for beginners. Also, it's available on mobile as well as your laptop or tablet.