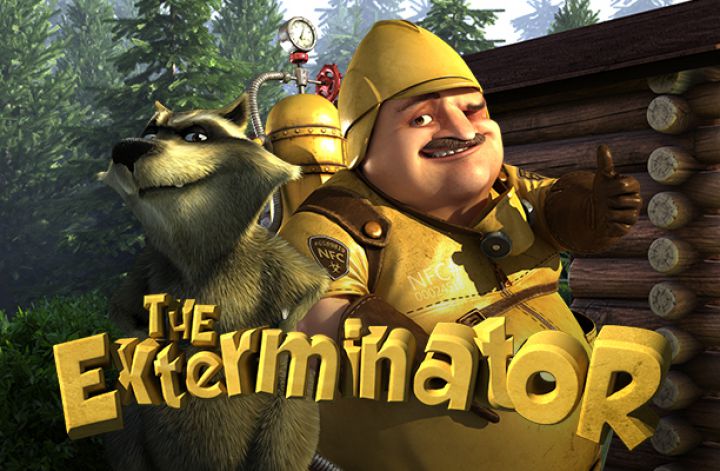 The Exterminator is a cool game that focuses on our intrepid hero, the champion pest exterminator, Alvin Goodman. Incorporating bright and bold graphics, poor old Alvin has to catch all kinds of bugs and pests via a slot game consisting of 5 reels and 30 paylines. Just the layout and the way in which Betsoft has built this game will keep drawing you in time and time again.
Overview of The Exterminator
This 3D slot isn't currently available on mobile, but don't let that put you off checking it out. Alvin has a rather tricky raccoon problem to deal with, and if you help him out then you stand to get yourself some winnings. This has led to the game containing various cool symbols that add to the fun, including Alvin himself as well as that pesky raccoon. This game also comes with a range of multipliers, wild cards, and bonuses that continue to add a sense of intrigue to the entire game.
Bonus Rounds
If you are looking for bonus features, then this game is packed of them, but you need to get to that second screen bonus by way of triggering it. In order to achieve this, you need to strike 5 blueprint symbols across the reels before it opens up a whole world of possibilities. When you get this second screen, you have the chance to find the raccoon. Be successful, and it means you will strike it rich.
Also, if you get 5 footprint symbols, it means you get free spins. It also then throws in random multipliers, so you have the opportunity to increase your winnings if luck is on your side. However, if you are looking for a lucrative bonus, then you want the sticky symbols. Get a winning combo, then the sticky symbols lead to free spin and your winnings increase once again.
How to Play
Playing the game is straightforward. It has clear buttons and an easy to use interface. As is the norm with games by Betsoft, you get to choose the size of your bet, the paylines that are activated, and then shown the total bet. Click on spin or, if you want to save yourself some time and effort, click on the auto spin option to then sit back and hopefully see your winnings grow. Also, if you are unsure about the playing aspect, then Betsoft always makes it easy to find the game info on the screen with full details to help you along.
Betting and Payouts
What you are looking for with this game is to get Alvin himself as that leads to the biggest payout and will increase your winnings by 5x. However, the raccoon is also good as he too can increase your winnings by the same amount. However, the maximum payout is set at 12,500 coins if you strike the free spins available on the game.
The Exterminator is packed full of fun and is a nice, simple slot game. With a lot of help on hand to explain the bonus features, this game by Betsoft could act as a great introduction to slots or, if you want something plain and simple to play with 30 different paylines, then this could be perfect.