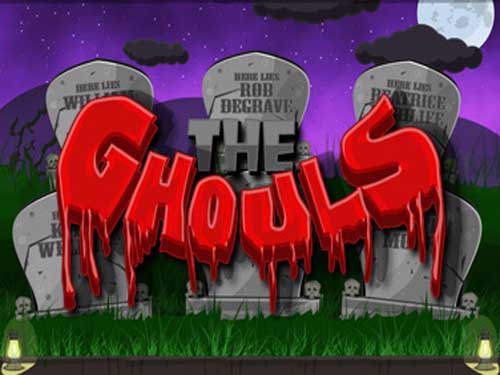 This highly entertaining game is undoubtedly going to lift your spirits. Equipped with a user-friendly interface, this creation by Betsoft may focus more on small payouts, but there's also increase frequency which certainly adds to the overall fun feeling. Offering 5 reels and 20 paylines, this Halloween themed game has a lot to offer.
Overview of The Ghouls
This game has a cartoon feel to the idea of ghosts, so it doesn't take itself seriously. Set in a graveyard, it has a range of scary symbols to keep an eye out for ranging from Dracula to a witch, mummy, or even the bonus round launching tombstone. Betsoft has clearly put a lot into the development of this game and its theme with it having a sufficiently spooky feel to it. Watching the reels spin on top of that old house shows the detail they have put into it, and those symbols are capable of keeping the theme going with every spin.
How to Play The Ghouls
This game comes with a simple interface, so anybody should be able to play without running into problems. It features the usual Betsoft layout, which means you can choose your coin or bet size, the number of paylines activated, and the bet level. This all has an impact on what you could eventually win, so choose wisely. Overall, it's a friendly interface and perfect for those new to slot games.
Bonus Features for The Ghouls
Get 3 or more tombstone symbols and you activate the second screen and its bonuses. Then, you get 6 tombstones, choose one and receive some instant credits. Keep on clicking and add to your bonus, but be warned that clicking on the one that says 'collect' will result in your bonus round being over.
Another bonus is if you land 3 Dracula symbols. With this, you get some free spins up to a maximum of 20 if you land 5 Dracula symbols. Sadly, the number of bonus options available with this game is lower than you may see with other Betsoft games. However, they are still entertaining enough and capable of holding your attention.
Betting and Payouts for The Ghouls
With this game, you are allowed to place coin bets between 0.02 and 1 with a maximum of 5 credits per line. Also, a maximum of 20 lines can be activated at any given time. However, where this game is different in that it has both a progressive jackpot as well as a standard version. To win, you need to place the maximum bet, and if you get the standard jackpot then a prize of 5000 credits awaits.
The Ghouls is a cool game that is hardly going to send shivers down your spine. However, its friendly interface, fun graphics, and the real potential of winning something in the game will mark it down as being one to try for all slot game enthusiasts. With both free and cash options available, check it out to see how you feel about the gameplay before seeing if this spooky theme will scare away your luck.