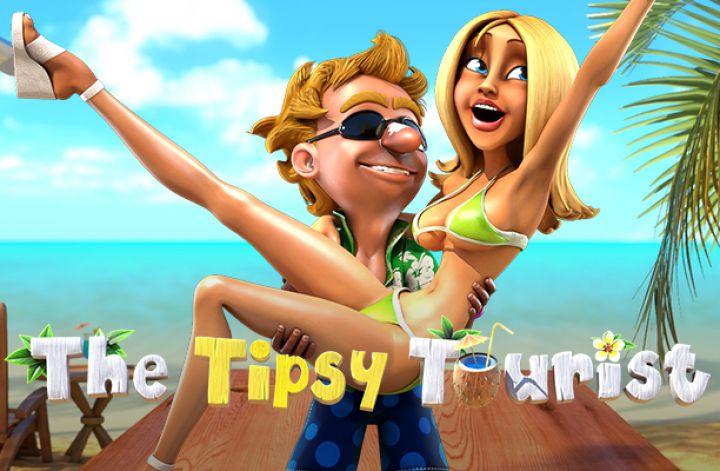 The Tipsy Tourist is created by Betsoft and the first thing that hits you is a rather cool intro sequence that sets the tone for the entire game. Packed full of features, this game takes you off to sunny Miami after packing in your job and realizing you need to change your life. However, more about the slot game aspect.
Overview of The Tipsy Tourist
This game has 5 reels and offers you 20 paylines. It also comes with both a free version and the chance to play for cash, and with an average payout of over 96%, you see that this could prove to be rather attractive. The entire game comes with a backdrop of palm trees, a beach, and the sea, giving you a real summer feel. As a result, it also has vacation and summer style symbols ranging from our main character, called Gary, to bikini-clad women, beach balls, plane tickets, and a whole lot more. Of course, different symbols lead to various bonus plays, as is the norm with Betsoft games.
How to Play The Tipsy Tourist
Playing The Tipsy Tourist is easy. Their interface is well laid out as is normal with games by Betsoft. Choose your bet. Choose the number of lines you want to play on, and the bet per line. The screen then shows you the total bet and all that's left is to hit that spin button. If you want to run on the same settings, then the auto-play button makes that possible. Playing this game is as simple as that.
Bonus Features for The Tipsy Tourist
First, land a sign to a beach party and trigger a bonus wild spin where your chances of winning will drastically increase. Additional bonus games include multipliers, free spins, and look out for those Gary symbols as well. In this instance, it's the beach ball that acts as the scatter symbol. If you land it on reels 3,4, or 5 then it triggers a special bonus round with additional free spins.
But then, there's also the special drinking bonus round with this game. Get the red cup on reels 1,2, or 3 where you can win prizes if you correctly guess the flip of a coin. Also, they have included a 'Double Up' option which is a simple game of chance.
Betting and Payouts for The Tipsy Tourist
The betting aspect of The Tipsy Tourist is simple. You can bet in a range starting at $0.02 and with a maximum of $1. This also then ties in with the bet level. Wager on a higher bet level and it leads to bigger rewards should you be lucky and win. If you want to hit the jackpot, then it's Gary you want to see as hitting 5 of his symbol leads to a maximum win of $3,500.
However, if you are playing with coins on the free version, then the maximum win amounts to 1,750 coins if you land on those Gary symbols.
With an overall laid back approach to the game, The Tipsy Tourist is a lot of fun. Its bright approach and funky theme mixed in with it being easy to play is what you come to expect from Betsoft, and they are certainly not going to disappoint with this slot game. The only potential downside is their reluctance to offer as many free spins as other games, but aside from that, there are no problems with this game.