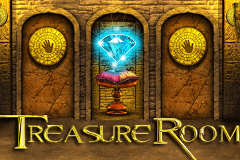 Treasure Room is a slot game developed by the team at Betsoft, and as the name kind of suggests, it's connected to treasure and riches. Now, associating treasure with a slot game is hardly groundbreaking, so how does this game then differ from the rest?
Overview of Treasure Room
This game takes us into what looks like an Egyptian tomb with burning torches just like the Indiana Jones movies. The game has 5 reels and a total of 20 paylines on offer, so there's ample opportunity to grab some wins. The symbols blend together this Indiana Jones idea along with items that could be seen as being a treasure. It means the likes of Roman helmets, treasure chests, a treasure map, jewels and a whole lot more are on offer.
How to Play Treasure Room
To play this game, you need to do a few things in order to set your bet in the first place. Begin by choosing the coin denomination with this button in the bottom left corner. After selecting the size of the coin, you need to decide on the bet per line that you wish to place. This will then be multiplied by the number of paylines you bring into the game.
Bonus Features for Treasure Room
There are several key bonus features to check out with this game. First, if you land three of the golden disk scatter symbols, then you open up a second screen bonus. Here, you get 3 doors with each one having its own gemstone. Click on it to receive a special prize depending on the gem in question.
Another bonus feature is the sword and shield bonus. Here, you simply need to click on a sword or shield to get your prize which could amount to as many as 125 free spins or a 5000 coin bonus.
Betting and Payouts Treasure Room
The coin range for this game is slightly lower than the average. It starts out as low as 0.02 while the maximum is only 0.5. For the bets, then you can place a bet as low as $0.02 while you can bet a maximum of $50 per spin and, as like the coin denomination, that is lower than a huge number of slots that are available right now. For the payouts, then the maximum jackpot is pegged at 5000 coins.
However, the RTP here is under 95%, and that is also lower than most slots. Overall, it does tend to lean toward this being a tough game to play and to win big on especially when the total jackpot is set at $2500 compared to others significantly higher.
Treasure Room is an easy game to play, and with low bet options, it could be the ideal slot game for people to use as a way of introducing themselves to what is possible with online slots. Sure, the jackpots may not be as high as you would like to see, but there are various ways in which you can win something, so that may very well keep your interest going until you strike it lucky.