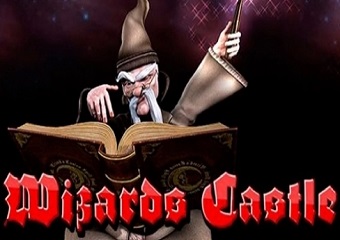 Designed by Betsoft, Wizard's Castle is a magic-themed slot, but then that's hardly a surprise when you think of the name. There's certainly a hint of Harry Potter about it all, but only when he's older and with white hair, and even though the wizard theme isn't new, this game may indeed have a few twists and turns.
Overview of Wizard's Castle
This game has 5 reels and it also offers only 9 pay lines. This may be less than you are used to, but don't let that put you off trying this game. The reels are placed on a one-sided view of a castle with the wizard sitting there with his book of spells. It does contain various bonus features, while the symbols used certainly reflect the magical nature of the game. Look out for the wizard hat, spell books, earth, wind, fire, and water symbols as well as items used to create the ingredients for the spells.
How to Play Wizard's Castle
So, to play this game, you need to kick things off by selecting your coin size. To do this, head on over to the denomination button on the bottom right of the screen. Next, choose the number of lines you want to bring into play and then hit spin. Nothing complicated, and the next thing you know you have those reels set in motion.
Bonus Features for Wizard's Castle
This game does come with wilds and scatters which then open up some added extras. The scatter is represented by the symbols saying 'scatter' while the same approach works for the wilds as well. With those symbols, you have the wild replacing symbols, aside from the scatter, to boost your chances of some winning pay lines while the scatters can provide you with some additional bonuses.
The key bonus game comes with the earth, wind, fire, and water symbols. All four must match each other on the reels, and it then opens up the chance to choose from a selection of scrolls. There's a prize behind each one, but it still comes down to complete luck as to what you end up grabbing.
Betting and Payouts Wizard's Castle
With Wizard's Castle, the coin values range from 0.02 up to 1. If you then play all of the different pay lines and place the maximum bet, which you can do with the max bet button, then the absolute maximum you can win with a single spin is set at 10,000 coins. That in itself is not too bad, but other payouts to look out for include 2000 coins for landing 5 of the wild symbols across a pay line. Also, the game has an RTP of 95.5% which is around average for this style of slot.
Wizard's Castle is nothing too elaborate with some slightly dated-looking graphics, but the gameplay is smooth enough with ample opportunity to grab some wins from time to time. The payouts are reasonable without being too over the top with enough small payouts to keep you entertained. However, the bonus aspect could be slightly more inventive, so that is the only real issue with this slot.