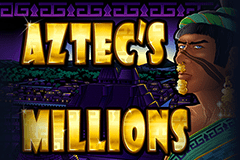 Aztec's Millions is a cool slot game developed by Real Time Gaming that offers you the opportunity to win in various ways with each spin. The game itself is pretty old since it dates back to 2009, but that shouldn't be a reason for you to be put off giving it a go. Also, it's an update to another game brought out even earlier called Aztec's Treasure.
Overview of Aztec's Millions
This particular game has a total of 5 reels and it also offers you 25 different paylines. While the reels themselves are nothing spectacular to look at, by the standards we are used to today, the symbols are still cool and stand the test of time. Here, you can clearly expect a distinctly Aztec theme including the King, idols, jewels, and more.
How to Play Aztec's Millions
Playing the game involves a different approach to what you could be used to. That is because there's only one bet size, and that is where there could be a significant issue for a lot of people. In fact, all you need to do is to hit the spin or use the auto option, and then see if luck is on your side.
Bonus Features for Aztec's Millions
This game does come with a couple of bonus features, and they are primarily surrounding the wild and scatter symbols. With Aztec's Millions, the wild is the King himself, but he is only going to appear on reels 2, 3, and 4. However, when he does appear, he will swap every symbol aside for the Aztec's Millions and idol symbols for his own. In turn, this boosts your ability to win over a number of paylines.
For the scatter, then the symbol to look out for is the idol, and land 3 of them on any combination of reels will result in you being able to get a multiplier but considering issues regarding bet levels on this game, it does make it tricky to understand exactly how this multiplier would then work. At the same time, it triggers a free spin combination which could be re-triggered if you manage to land those symbols once more.
Betting and Payouts for Aztec's Millions
As we just said, there's only one size of the bet with this game, and that bet is $5. That does seem high and immediately eliminates a healthy percentage of the possible players. However, the payouts can be pretty decent with this game, so if you do strike it lucky then it could be well worth your while.
The highest paying symbol in the game is the woman. Land 5 of her and you stand to win either 5000 coins or $1000 if playing for cash. Another symbol that pays well is the leopard and, once again, land 5 of them will result in you winning 2500 coins or $500.
Aztec's Millions is a game that does promise so much but is let down by the bet size. If they could have worked at allowing you to change the bet size then this game would have been a lot better than it has turned out to be.