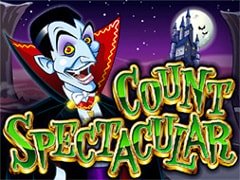 Launched in 2010 by RTG, Count Spectacular is a highly rated slot game that continues to gain popularity thanks to its well thought out vintage and spooky theme.
Overview of Count Spectacular
Featuring expanding wilds and two progressive jackpots, Count Spectacular slot game takes the players on an immersive journey into a mythical world filled with gloomy castles, coffins, bloodthirsty wolves, and bats. While the overall theme of Count Spectacular may be somewhat eerie, players will still get to enjoy the game's overall appeal. Featuring numerous icons such as count spectacular, mirror, wolf, the blonde, and garlic symbols, Count Spectacular is a slot game that tends to reward players heavily in comparison to other slot games. Readily available on several platforms including mobile phones, laptops, and PCs, the crisp clear graphics definitely make this slot game stand out.
How to Play Count Spectacular
When it comes to Count Spectacular, the coin ranges from $0.01 to $1.00. Select the amount you want to bet by clicking the "Bet" icon. Since Count Spectacular features 25 pay lines, you can play up to the max 25 coins. Regardless of your bet amount, the 95% RTP will ensure you get rewarded. While Count Spectacular is geared towards medium-high rollers, you will still be able to net some winnings but not the high-value one.
Count Spectacular offers two progressive jackpots, the major and minor jackpot. Since the game generates these jackpots randomly, you will not be able to employ any proven strategies to land any of these jackpots.
Although RTG developed Count Spectacular several years ago, the vintage visuals do some great justice to the slot game. Count Spectacular uses a simple RTG layout that features a bet, balance, and win sections at the top. The user-friendly interface is easy to navigate, making it ideal for new players. While many users find the sounds somewhat distracting, users still have the option of muting the sounds. Interestingly, the slot game also features a turbo mode where players can customize their experience by selecting the hand they would like to play with.
Bonus Features for Count Spectacular
Count Spectacular features a variety of symbols including castles, lanterns, mirrors, wolves, and carriages, with the castle being the scatter symbol. As expected, the scatter symbol activates an array of rewards, including 4 free re-spins or 12 free exciting games with triple prizes. The highest paying symbol is the count, which pays 100,000 times the wager placed, while the second highest paying symbol is the blonde which comes with a 2,500 multiplier. If you happen to land on two wild reels, then it is highly advisable to go for the re-spins. Re-spins have a win multiplier, unlike the free spins. If you are new to this slot game, you can always start out with the demo mode just to get an overall feel of the game.
Compatibility of Count Spectacular
Count Spectacular is compatible with a plethora of devices including smartphones, laptops, and PCs, and is readily available on Windows, Blackberry, Android, Mac OS, and iOS. The load time for this game is short because of the engineering behind this slot game; HTML5 on mobile devices and flash on PCs. You can decide whether to use the instant-play option or download the game on your device. Get Count Spectacular and enjoy a blend of high RTP, impressive jackpots, excellent customer support, and a stunning theme.