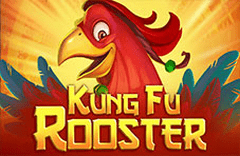 Kung Fu Rooster is certainly a cool name for a slot game, and it becomes even cooler when you see what this game has to offer. Created by Real Time Gaming, this was tied into the Year of the Rooster back in 2017, and even though that was a few years ago, the game itself still looks and feels modern.
Overview of Kung Fu Rooster
The game contains 5 reels and a total of 12 different paylines, and even though this may be a little less than other games, it still provides ample opportunity to grab some wins with each spin. The graphics are seriously cool, and when you have characters such as the Kung Fu Rooster and his monkey sidekick, then you know you are in line for a whole lot of fun. Of course, those two appear as symbols in the game and they have significant power compared to the other symbols.
How to Play Kung Fu Rooster
Like most RTG games, to play this one, you need to choose both the size of your bet as well as the number of lines to bet on. Both of these are achieved by using the plus and minus symbols beside the relevant button, and then keep your eyes open for the total bet changing. Once you feel confident in your bet, hit the spin button to see what happens next.
Bonus Features for Kung Fu Rooster
The game has both wild and scatters symbols, so it does give the opportunity for some bonus features. This time, the wild symbol is the Kung Fu Rooster himself and he's going to create a number of winning lines when he swaps out any symbol aside from the scatter.
Talking of the scatter, it's the monkey to look out for in this instance. Land 3 or more of him and you will activate the free spins mode, as you are rewarded with 10 free games. If you then get another 3 scatters, it means you activate the 'Fire Claw Multiplier' which sounds scary but means you can grab up to another 25 free spins. You also get a multiplier increase with each free spin, so keep an eye out for that happening as well.
Betting and Payouts Kung Fu Rooster
This game has an RTP of 96.3%, and that is slightly higher than the average. With bets, the minimum bet is set at $0.30, which is a bit higher than in some places. Also, the jackpot could potentially be as high as 50,000x your bet, so you can imagine how much money that would come to.
What we like about Kung Fu Rooster is that the theme is very different and the graphics are bright and colorful. The game itself isn't too different from others, but the 'Fire Claw Multiplier' is a lovely addition that does help to just spice things up a little bit. Triggering the free spins is a lot easier than with other games, and if your luck holds, it does open up the possibility of grabbing some impressive wins even if you have placed a lower initial bet.