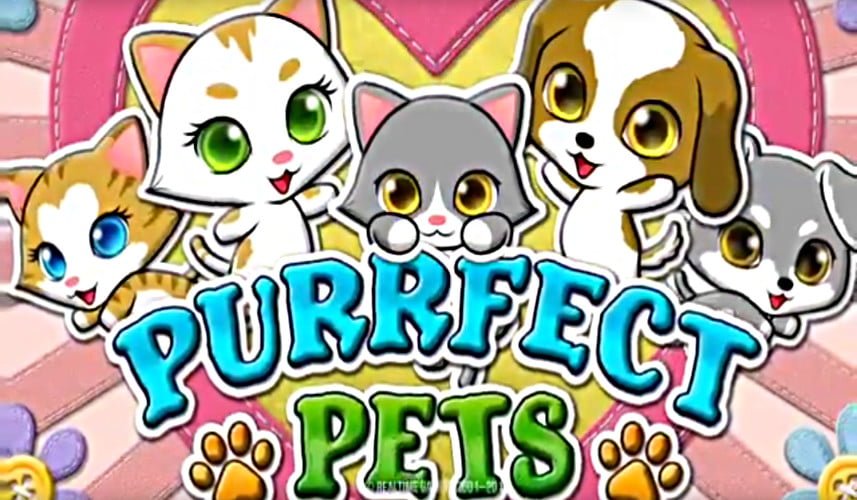 Purrfect Pets is a slot game developed by the ingenious team at RTG, and this time we have a pets based theme that is certainly cute and cuddly in a cartoon style. However, you have probably come across pet-related slots before, which means we need to check to see what else this game has to offer.
Overview of Purrfect Pets
This game is designed with a 5×3 reel while it also has 25 paylines on offer. The graphics don't try to be anything too realistic with a cartoon garden in the background and the reels being draped in a polka dot theme. The symbols include a variety of pets as well as pet food and toys, and the combination of symbols is where the cuteness factor is really ramped up. Also, look out for milk, pet collars, and even a bone as they can all result in some cool wins.
How to Play Purrfect Pets
In order to play the game, you need to choose your bet size by moving through the options on the bet button by hitting those plus or minus symbols. Also, you will want to select the number of paylines that will be brought to life, and increasing the number is going to also increase your overall bet. You do want to pay attention to this even though the maximum bet on this game is significantly lower than you generally see elsewhere.
Bonus Features for Purrfect Pets
The game does come with wilds and scatters, and the cat symbol acts as the wild in this instance. If you land them on the reels, then you can win up to 10 free spins as well as any wins being paid out at 3x the usual rate. The dog then acts as the scatter, and you need to land at least 3 of them to then trigger the special bonus feature called Doggy Dollar.
With Doggy Dollar, you will be given 10 free spins, but any scatter symbols are then turned into wilds at the same time. Any prizes will then be doubled in value throughout the free spins, but if you land another 3 or more cat or dog symbols, then you are gifted another 10 free spins.
Betting and Payouts for Purrfect Pets
You can play a round of Purrfect Pets for as little as $0.25 per spin. Also, the maximum spin is $6.25, and that does mean you can bring each payline into play without it denting your bank balance too much. With the jackpot, it's limited to a maximum of 5000 coins, so take the coin value you are betting with and multiply it by 5000 to see how much you could win on that spin. Also, the jackpot is non-progressive, but even if you don't land the jackpot, you can take heart from the game having an RTP of 95.4%, so you have ample opportunity to land some impressive wins.
Purrfect Pets is cute, cuddly, doesn't cost much to play, and yet you can still win a handsome reward if the reels end up being kind to you. If you prefer your graphics and gameplay to not be so much in your face, then this could be the perfect game for you.