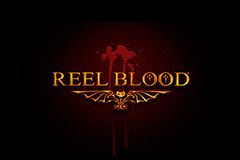 Reel Blood is a slot game that intends to try to freak you out a bit with the theme. Now, it's not the first one to try to do this to the players, but with graphics improving, perhaps this one will succeed where others have failed.
Overview of Reel Blood
The game provides you with a simple 5×3 reel setup which then largely dominates the screen. Unsurprisingly, red is the main color that you see here while there's a slight horror feel to the limited backdrop that can be seen. The symbols in use are connected to the idea of vampires and the horror genre along with the normal card-based symbols. Also, the game offers you 243 different paylines, so that should make you feel as if a win is possible with every spin.
How to Play Reel Blood
So, to play this game is going to involve you selecting your bet value by clicking on the up and down arrows next to where it says value at the bottom of the screen. As there are 243 different paylines, you don't need to worry about choosing the number to be brought into play as you will be gambling on every single one. When you are happy with the bet size, either hit the spin button or autoplay if you want to speed things up a bit.
Bonus Features for Reel Blood
There are wilds and scatters on this game with the wild increasing your chances of landing some winning combination. However, it's the scatter symbol that holds the key to this game. Not only will it give you the top prize, but it opens up a second bonus game, and that's where Reel Blood becomes unique in its approach.
After landing at least 3 scatters, you get to the Reel Blood Bar, and it opens up on a second screen. When you get there, you see this bar only has bottles of blood. You need to select bottles at random in order to play this game. When you do so, a prize will be revealed. You are then free to keep on selecting bottles until you land on one that says 'collect' at which point the game is over and you collect all of the prizes you have been storing up.
Betting and Payouts for Reel Blood
The minimum bet you can place with this game is $0.25, and the maximum is a rather healthy $125 per spin. This is a lot higher than you may be used to playing, but if you want to land the biggest jackpot available, then you need to play the maximum bet. Aside from that, the payouts are the equivalent of 1250 coins, so the jackpot is lower than you would expect which is a slight disappointment.
Reel Blood does at least try to do something a bit different with the theme and bonus games, so they should be applauded for that. However, they could have offered a better jackpot to entice the high-rollers into the game. That aside, it plays well, has nice enough graphics, and offers enough fun to keep you interested for some time.