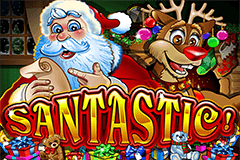 Santastic is yet another festive-themed slot game by RTG, but this one is slightly different in that it has a far more traditional approach when it comes to the slots themselves. However, it's still colorful and appears to be a whole lot of fun, but does it follow through on its initial promise?
Overview of Santastic
This game only has 3 reels, and that's a bit of a blast from the past. Also, it only has 5 paylines available, but neither of those things should put you off giving it a go. The reels are against typical snow and festive theme where it appears as if it's the kind of village where Santa himself would live. The symbols on the reels include Santa, Rudolph, elves, snowmen, and other symbols that are clearly linked to Christmas and Santa himself.
How to Play Santastic
To play, you need to still select your coin size, the bet per line, and whether you want to play all 5 lines or fewer lines. This is all achieved by clicking through the options until you are happy with the size of your bet. When ready, hit the spin button to see how things are going to land for you. Of course, you can speed things up a bit by clicking on the autoplay button as well.
Bonus Features for Santastic
The bonus aspect of this game is where things take an interesting turn. First, stockings symbols are wild, and they can appear on 2 and 3. If they land on reel 2, then they are doubled, and then they are tripled when they land on reel 3. If you land a win with wilds on both reels, then the prize is paid at 6x the usual amount.
The best bonus feature is when you get 3 of a kind across the reels. This triggers the Santastic feature, and you will automatically win 1 of 8 different prizes. This can range from 25 free games to a jackpot spin, 10 free games, prizes paid out at 2500x, multiple jackpots, 3 free games, or 2 options where you win nothing at all. This feature does add some real excitement to it all, and it certainly keeps you on edge.
Betting and Payouts for Santastic
The coin range for this game starts out at 0.01 and goes up to a maximum of 1. It does mean the bet size can be as low as $0.1 or a maximum bet of $5 per spin. For the jackpot, then you could win up to $600, but there is also a progressive jackpot, so the size of it will vary by a huge amount. Overall, the different symbols don't typically payout in high numbers, but with an RTP of around 95%, then you should at least be landing wins on a pretty regular basis.
This game is a whole lot of fun, and RTG has been able to cram a lot into this 3 reel slot. The bonus features are different enough to hold your interest, and the special Santastic game certainly gets the adrenaline flowing.