All forms of gambling, in-person and online are legal in the state of Pennsylvania. As of October 30th, the gambling expansion bill made way for the state to legalize online gambling. Pennsylvania is also the only state to offer both gaming and lottery online.
The Commonwealth of Pennsylvania is in the Mid-Atlantic region of the United States but doesn't border the Atlantic Ocean. Instead, it is surrounded by Delaware, Maryland, New York, New Jersey, Ohio, West Virginia, and the Canadian province of Ontario.
Pennsylvania's Best Real Money Gambling Sites
Casinos
Sportsbooks
Poker
Casinos
Sportsbooks
Poker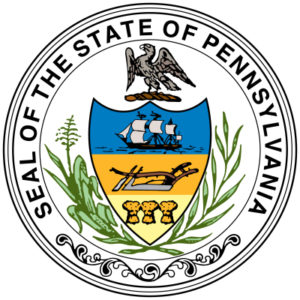 Pennsylvania Gambling Overview
Abbreviation: PA
State Motto: Virtue, Liberty, and Independence
Capital City: Harrisburg
Population Estimate: 12.8 million (5th)
Website: http://www.pa.gov/
Legal gambling like pari-mutuel betting dates back to the 1950s in Pennsylvania, and the lottery goes back to the early 1970s. But it wasn't until the 2000s that the industry began to expand.
The Race Horse Development and Gaming Act was passed in 2004 to allow the horse racetracks to offer more games for customers. They soon became racinos with slot machines, though they did not garner the ability to offer table games until 2010. Other casinos popped up around the state as well, including five standalone casinos and two casino/resorts. The Pennsylvania Gaming Control Board was also created at that time to oversee the industry, issue licenses, and create regulatory frameworks beyond the basics detailed in the laws.
Other games were authorized in the years that followed, such as raffles and pull-tabs at bars and restaurants around the state, generally done for charitable organizations.
As part of that gambling growth, Pennsylvania lawmakers passed a bill in October 2017 to offer lottery ticket sales, allow the installation of video gaming terminals at truck stops and airports, and to legalize sports betting and daily fantasy sports (DFS). And it legalized online poker and casino games.
All of the gambling laws have been incorporated into Title 4 of the state's statutes. The interactive gaming wording was added most recently, and it includes all information pertaining to licensing, age verification, geolocation to ensure players are within the borders of Pennsylvania, and all fees and revenue details. It also offers definitions of terms like "interactive gaming" and gaming skins, which are different portals all connecting to the same gaming platform.
The most important defined term in the detailed statute is interactive gaming, which is:
"The placing of wagers with an interactive gaming certificate holder or interactive gaming operator using a computer network of both federal and non-federal interoperable packet switched data networks through which an interactive gaming certificate holder may offer authorized interactive games to registered players. The term shall include the placing of wagers through the use of a multi-use computing device."

Most Recent Developments
The most recent development was the much-anticipated legalization of online gaming, DFS, and sports betting. Internet poker and casino games were first introduced to the legislature in 2013, and lawmakers studied and debated the issue through the years. They came closest in 2016 when the House passed a bill, but the Senate was not satisfied with the terms.
In 2017, Pennsylvania lawmakers in both houses pushed hard but had to overcome several differences, including license fees and tax rates, as well as video gaming terminals that were part of the overall gambling expansion. Some wanted the VGTs, while others were vehemently opposed, so they finally compromised to roll out the machines on a trial basis. The negotiations continued through most the fall until the House and Senate agreed on a bill, which they passed and Governor Tom Wolf signed on October 30, 2017.
Land-based casinos and racinos in Pennsylvania will be able to partner with online gaming operators to obtain licenses, which will allow them to offer online poker, casino games, and/or slot machines. The spring and summer months find license applications being submitted, and those licenses will likely be awarded throughout the summer months. The sites are likely to coordinate a joint launch, which is anticipated to happen in the late fall or early winter months of 2018.
Sports betting was also legalized with the 2017 gambling expansion bill. The move was in anticipation of a case before the US Supreme Court, from which a ruling is expected before the summer of 2018. The case involves New Jersey and the National Collegiate Athletic Association, the latter having sued New Jersey when its legislature passed and Governor Chris Christie signed a bill to legalize sports betting in the state. That violates a current federal law that gives only a few select states, including Nevada, the right to offer sports betting, but a ruling in favor of New Jersey has opened the industry so that all states can make that decision. Pennsylvania will be ready with sports betting already legalized in 2017.
The only anticipated change in the coming months or year will be interstate online poker. Pennsylvania was the fourth state to legalize online poker and casino games, and the other three – New Jersey, Delaware, and Nevada – all signed an interstate liquidity agreement in 2017 to share online poker players. In addition, New Jersey and Delaware, both of which offer casino games online, will share casino game jackpots.
Pennsylvania Online Gambling FAQ
Can I play for real money on your recommended poker, gambling, and betting sites?
There are a variety of sites that offer real-money gambling online to Pennsylvania residents.
Does state law enforcement intend to crack down on internet gaming?
A: As the new regulated market launches and gets comfortable in its own market, there may be an effort by the Pennsylvania Gaming Control Board to block access to gambling sites that are not licensed in the state. They may also threaten legal action, though it is unclear if the state is prepared to actively pursue charges against those operators.
Should players be worried about a crackdown?
No. Players will have numerous options for their online gambling choices, and no matter the selection, players are very unlikely to be targeted for choosing a site that may not be licensed in Pennsylvania.
What if one of your recommended sites shuts down? Will I get my money?
The sites listed here are licensed in jurisdictions that make player funds a priority. Operators are often required to show proof that they separate player monies from company operating funds, which ensures that players will be paid in the case of a market departure or complete shutdown. There is no way for our site to guarantee that will be the case, but we only work with sites that have been in business for many years and shown themselves to be trustworthy.
How do I deposit and withdraw money from these sites?
A: Players on some of our recommended sites have numerous options for transferring funds, with deposits allowed via debit and credit cards or e-wallets and withdrawals by checks. Bitcoin is also allowed on many of the sites, and it offers relatively low fees, anonymity, and the only option by which players can deposit and withdraw. As for regulates sites in Pennsylvania, they have yet to launch in 2018 but will list options once the sites go live. Check each preferred site for details.
Are there any land-based casinos in the state of Pennsylvania?
Yes of course. There are actually many location across the state of Pennsylvania since the legislation in 2004 passed allowing slot machines at 14 locations in the state, including racinos.