Online poker and casino games are legal to be regulated in Delaware when licensed by the state. Sports betting is also legal, per the federal Professional and Amateur Sports Protection Act, which gave four states – including Delaware – the right to offer sports betting. Below you'll find an overview of the best online gambling sites currently available for Alabama players. Below you'll find the best gambling sites in Delaware that offer real money games to state residents.
Here's The Best Real Money Delaware Gambling Sites
Casinos
Sportsbooks
Poker
Casinos
Sportsbooks
Poker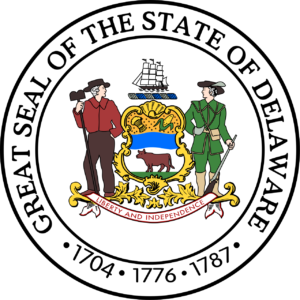 Delaware Gambling History
While not officially in New England, Delaware is a part of the Middle States portion of the northeastern United States. It borders the Atlantic Ocean and New Jersey on its east side, Pennsylvania is to its north, and Maryland is to its south and west.
Abbreviation: DE
State Motto: Liberty and Independence
Capital City: Dover
Population Estimate: 952K (45th)
Website: https://www.delaware.gov/
Delaware is one of the smallest states but packs a lot of gambling into its borders. It started with a legalized lottery in 1974 and then race tracks with pari-mutuel betting.
As the three major state tracks wanted to grow, the Delaware legislature allowed them to add video lottery terminals. And in 2009, those racinos expanded further to include table games like poker and roulette, as well as sports betting, which is legal in Delaware (one of only four states currently legalized by federal law for sports betting).
In 2012, lawmakers passed the Delaware Gaming Competitiveness Act, which then became Chapter 285 of the Delaware Code when signed into law. It legalized an online lottery as well as online gambling in partnership with the three racinos – Delaware Park Racetrack & Slots, Dover Downs, and Harrington Raceway & Casino. And the Delaware Lottery was dubbed the regulator to oversee the online games.
Internet table games are a part of the internet lottery wording of the law, and they are defined as an internet variation of the traditional table game. All internet games were designated to be hosted on one gambling platform to be shared by the three racinos, and 888 was eventually the operator chosen to provide the games. The shared platform meant that all internet poker players shared prize pools and tables, as well as any other jackpots and games that would benefit from the larger customer base.
The Delaware Lottery issued the rules for the internet games in September 2013 and the sites launched in November of that year. It was a pioneering moment for the new US online gambling market, and Delaware was one of the first three states to participate.
A few months into 2014, Delaware's governor signed an interstate gaming agreement with his counterpart in Nevada to allow for online poker sharing on the 888 platform between the two states. That network then went live in March 2015 with shared poker player tables and prize pools for all players within the state borders of Delaware and Nevada.
The new internet gaming industry has a mission statement that vows to use revenue to contribute to the state's general fund, and it follows with this important part of the mission:
"To operate all games and facilities in a highly secure environment and in compliance with all legislation, internal control requirements and internet gaming rules and regulations, in keeping with the Delaware Lottery's quality image and high level of integrity."
Recent Market Developments
Delaware's online gaming industry has not been as profitable as some had hoped, due to its limited population and single network. However, there is room for growth.
In October 2017, Delaware signed a new interstate liquidity agreement with Nevada that then included the blossoming New Jersey market. At the time of the signing, only one operator was available in all three states – 888/WSOP – and it prepared to launch its tri-state network in the middle of 2018. There are signs that they will also eventually include Pennsylvania in the online poker network, but it remains unclear if any other sites will be able to share liquidity due to the limitations of Nevada and Delaware.
In addition, Delaware passed a law in 2017 to legalize and regulate daily fantasy sports (DFS). When the Supreme Court struck down PASPA in full in May of 2018, lawmakers set their sights on expanding sports betting offerings and expanding gaming options which would authorize more racinos or non-racing casinos. There are no indications that lawmakers are considering these options fiercely, but this may change as neighboring states become more competitive with their casinos and gambling options.
Delaware Gambling FAQ
Can I play for real money on your recommended poker, gambling, and betting sites?
There are sites available that are regulated within the state of Delaware, though they all perform on the same 888 network. Sports betting is only available at the racinos at this time, but there are other sites based outside of Delaware that offer internet sports betting options.
Does state law enforcement intend to crack down on internet gaming?
The state of Delaware focuses heavily on maximizing the revenue from its legalized gambling industry, and there appears to be no desire to pursue legal action against those operating outside of the state to Delaware players.
Should players be worried about a crackdown?
No. Should there be any legal action against offshore sites, the players are not likely to be penalized by the state.
What if one of your recommended sites shuts down? Will I get my money?
If a site pulls out of the Delaware market, there is no reason to believe they will run away with players' account funds. All of the sites we recommend have long histories of trust within the gaming community and will give players the chance to withdraw funds in a timely manner.
How do I deposit and withdraw money from these sites?
All sites have different options for depositing and withdrawing funds from online gambling and sports betting accounts. The sites will show the options to choose from, and players can also contact a customer service representative to ask any questions. From credit and debit cards to bitcoin, there are many methods available to most customers in Delaware.
Does Delaware have land based casinos?
There are in fact three land based casinos in Delaware where you'll find over 6,400 slot games to try. Here's an depth look at three of the most popular ones in the state: