There is no wording in the Iowa code that indicates online gambling or betting is strictly illegal.
Iowa is a Midwestern state in America. The landlocked state is bordered by Wisconsin, Illinois, Missouri, Nebraska, South Dakota, and Minnesota.
Iowa's Best Real Money Gambling Sites
Casinos
Sportsbooks
Poker
Casinos
Sportsbooks
Poker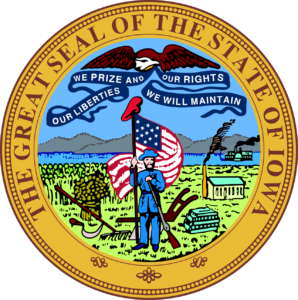 Iowa Gambling Overview
Abbreviation: IA
State Motto: Our liberties we prize and our rights we will maintain.
Capital City: Des Moines
Population Estimate: 3.1 million (30th)
Website: http://www.iowa.gov/
There is a variety of gambling allowed in Iowa, which started in the 1980s with the lottery and legalized pari-mutuel betting. Horse race tracks began opening around the state near the time that voters approved riverboat gambling. Other forms of legal gambling include dog racing, bingo, and social gambling.
Iowa was the first state to legalize riverboat gambling, complete with table games and slot machines. Four of the riverboats began operations in 1991, with the number multiplying in the following years and well over a dozen in operation today.
Tracks wanted to compete and were better equipped to do so by 1994 when they were granted permission to install slot machines and then table games like poker in 2005. The racinos and riverboats were better able to compete for customers.
There were others in the gambling fray as well. When Congress passed the 1988 Indian Gaming Regulatory Act (IGRA), many of the numerous Native American tribes in Iowa stepped up to negotiate compacts with the state. The three tribes that ended up with gambling establishments were the Sac & Fox Tribe of the Mississippi in Iowa, Winnebago Tribe of Nebraska, and Omaha Tribe of Nebraska and Iowa.
The Iowa Code offers fairly standard definitions of gambling and the penalties for violations of the law, while gambling games are defined as games of chance authorized by the state but not including sports betting.
Another section of the code goes into greater detail about the difference between games of chance and skill. According to its definition, the results of games of chance are determined by chance and the player, such as bingo but not including slot machines. Games of skill, on the other hand, are:
"Games whereby the result is determined by the player's ability to do a task, such as directing or throwing objects at designated areas or targets, or by maneuvering water or an object into a designated area, or by maneuvering a dragline device to pick up particular items, or by shooting a gun or rifle."
Most Recent Developments
Online gambling has not been something considered too often in the past decades by Iowa legislators. When it did venture into legalizing electronic lottery machines, they found there to be too many problems with the machines and banned them by 2006.
Lawmakers did consider online poker and casino games, whereby operators would partner with the state's casinos, in 2012. The bill was approved by the Senate but failed to make a vote in the House. Another attempt in 2013 could not even get through a Senate committee, however, primarily due to concerns raised by the Native American tribes of Iowa.
No bills have been introduced since then. The then-CEO of the Iowa Gaming Association addressed the issue in 2014 and said that they would keep their eyes on states like New Jersey, Delaware, and Nevada. Their progress with legal online poker and casino games could inspire Iowa to act in the coming years, but there was no mention of it in those years. And no further bills have been put up for consideration in the legislature.
There was a push for daily fantasy sports in 2017, though, and a bill was considered by lawmakers but pushed through to 2018 for further debate.
On May 13, 2019, Iowa Governor Kim Reynolds signed into a law a comprehensive bill to legalize sports betting in the Hawkeye State. The new law permits mobile (online) wagering as well as betting on college sports with certain kinds of in-game prop bets involving college games exceptions. The new law bestows the Iowa Racing and Gaming Commission with authority to regulate sports betting.
These new rules are set to launch August 15th in time for football season, allowing sports betting and fantasy sports wagering.
Iowa Online Gambling FAQ
Can I play for real money on your recommended poker, gambling, and betting sites?
Iowa players have numerous options for online poker, casino games, and sports betting.
Does state law enforcement intend to crack down on internet gaming?
There is no reason to believe Iowa will use its law enforcement resources to take action against gambling sites based outside of the United States. The task would be daunting and expensive and reap little reward since there are no regulated sites in the state that could benefit.
Should players be worried about a crackdown?
Even if Iowa decided to pursue charges against website operators for gambling, there is little to no chance that officials would go after players themselves. Players have never been part of any crackdowns in the United States.
What if one of your recommended sites shuts down? Will I get my money?
Yes. The sites on our page have extensive histories of paying players and keeping their funds safe. Players will have time to transfer or withdraw monies in their accounts, whether sites are shut down or simply blocked from servicing Indiana players.
How do I deposit and withdraw money from these sites?
Every site offers a variety of deposit and withdrawal options. The latest addition for many sites is cryptocurrency, which allows players to use bitcoin – and sometimes other methods – for quick deposits and simple withdrawals. Other methods available can typically be used only for deposits or withdrawals, but there are several options to appeal to the many needs of players.
Does Iowa have any land-based casinos?
Yes, in fact the state of Iowa is home to a wide variety of casino types. There are land-based casinos, tribal casinos, tribal bingo casino, a racino, and a riverboat casino. Let's take a look at the top casinos: