Kansas does not mention any type of online gambling or betting in its state code, thereby not noting if it is legal or illegal.
Kansas is right in the middle of the Midwest United States. The rectangular state counts its neighbors as Nebraska to the north, Missouri to the east, Oklahoma on the south, and Colorado on the west.
Kansas Best Real Money Gambling Sites
Casinos
Sportsbooks
Poker
Casinos
Sportsbooks
Poker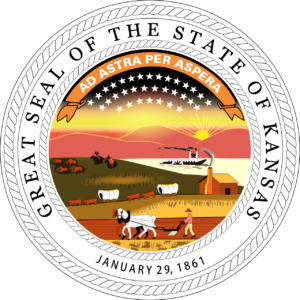 Kansas Gambling Overview
Abbreviation: KS
State Motto: To the stars through difficulties.
Capital City: Topeka
Population Estimate: 2.9 million (35th)
Website: http://www.kansas.gov/
Not known as a gambling haven, Kansas surprises many with the number of casinos allowed to operate there via different laws.
The lottery was approved by voters as a constitutional amendment in 1986 and did eventually expand to allow keno as well. The Kansas Lottery then began allowing online lottery games in 2004.
In 2007, the Kansas Expanded Lottery Act passed through the state legislature to allow four casino/resorts to be built throughout the state that were owned and operated by the Kansas Lottery. The bill also allowed the state's racetracks to install electronic gaming machines in order to compete with the new casinos.
Meanwhile, Congress has passed the Indian Gaming Regulatory Act (IGRA) in 1988, which gave Native American tribes the right to negotiate with state governments in order to build and operate gambling establishments. With dozens of tribes in Kansas, it was no surprise that some wanted to build casinos. Five tribes – Wyandotte Nation, Kickapoo Tribe, Iowa Tribe, Prairie Band of Potawatomi Nation, and Sac & Fox Nation – now operate casinos, complete with table games and slot machines.
Chapter 21 of the Kansas Statutes gives an overview of gambling definitions, the types of gambling that are not legal, and the potential penalties for those crimes. It does not, however, mention anything about gambling via the internet.
The Kansas Racing and Gaming Commission website has a much more comprehensive rundown of the legal and illegal types of gambling, though there is still no mention of online betting. For example, gambling not deemed legal would be illegal, which also goes for commercial gambling, dealing in gambling devices, installing communication facilities for gamblers, and illegal bingo operations.
As for the definitions in the state code, the one that relates to games of chance is for the word bet:
"A bargain in which the parties agree that, dependent upon chance, one stands to win or lose something of value specified in the agreement."
Most Recent Developments
Kansas lawmakers seem to have no interest in researching or eventually legalizing online poker or casino games. There have been no bills put forward to that effect. There has also been no interest expressed by the state's tribal nations to offer internet games.
As for daily fantasy sports, however, it was a different story. Kansas legalized DFS in 2015 by an overwhelming margin in the legislature and exempted that type of gambling from the state's official illegal gambling code. The bill was pushed because of original opposition by the Kansas Racing and Gaming Commission, which considered DFS an illegal form of a lottery. But once the law passed, the governor happily signed it in May 2015.
With respect to sports betting, there are numerous bills in the Kansas House and one in the Senate to legalize and regulate sports betting. Kansas lawmakers remain conflicted as to whether the lottery or racinos should offer sports betting. Kansas held sports betting hearings in the months before the Supreme Court issued its decision, but took no action after the Wire Act was reversed. Another bill was introduced January 2019 and remains to be voted upon.
Kansas Online Gambling FAQ
Can I play for real money on your recommended poker, gambling, and betting sites?
Many players in Kansas use our recommended sites to play online poker, casino games, and bet on sports via the internet.
Does state law enforcement intend to crack down on internet gaming?
Kansas has not indicated that it intends to use law enforcement resources to attempt action against online gaming sites that are based in other countries. The state could try to use internet service providers to block access to those sites, but the process would require significant oversight and potential legal entanglements, so Kansas is unlikely to consider it.
Should players be worried about a crackdown?
Players need not worry about any potential crackdown by the Kansas state government. Even if the sites are pursued for potential legal or criminal charges, there is little to no chance that players would be targeted in any way.
What if one of your recommended sites shuts down? Will I get my money?
Yes. These gambling and betting sites regularly consult with legal teams and sometimes leave certain state markets due to legal risks. If that happens, players always receive plenty of notice and options for withdrawing their money. In the case that a site would be shut down, operators have assured us that player funds are safe and will be paid in a timely manner.
How do I deposit and withdraw money from these sites?
There are numerous ways to deposit and withdraw from online sites. Some of the sites offer debit and credit card options, as well as ewallets and bank transfers for deposits. Withdrawals are typically handled by check or wire transfer. The most popular way to handle deposits and withdrawals via the same method is to use bitcoin, the cryptocurrency that is taking the world by storm. Players can use bitcoin to deposit instantly and withdraw money through the same account and methods. No matter your choice, consult with the individual sites that you choose for your action, and they will give the specifics of the choices available for their customers.
Are there any land-based casinos in Kansas?
Yes. Kansas state offers its citizens access to several tribal casinos, charitable gambling, and pari-mutuel betting. There are several casinos available to them, here is a look at three of the most popular ones: