The statutes of Louisiana do describe online gambling as illegal but in reference to video poker and riverboat gambling, so the exact meaning is unclear.
Louisiana is a state divided into parishes instead of counties and borders the Gulf of Mexico to the south. Arkansas borders it on the north, with Texas to the west and Mississippi to the east.
Louisiana's Best Real Money Gambling Sites
Casinos
Sportsbooks
Poker
Casinos
Sportsbooks
Poker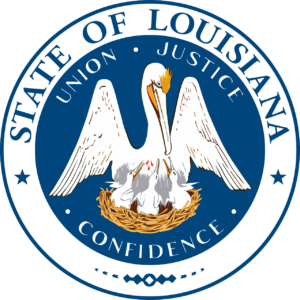 Louisiana Gambling Overview
Abbreviation: LA
State Motto: Union, Justice, Confidence
Capital City: Baton Rouge
Population Estimate: 4.68 million (25th)
Website: http://www.louisiana.gov/
As a state that fought for many years to rid backroom gambling and the accompanying reputation, Louisiana was not anxious to legalize any gambling. But it did turn over a new leaf in the early 1990s with the passage of several new laws to regulate the lottery, horse racing, pari-mutuel wagering, bingo, keno, social gambling, charitable gambling, and even riverboat casinos. At the same time, the Louisiana Gaming Control Board was created to oversee the new industry.
The riverboat casinos were approved for slot machines and table games, and racetracks were allowed to become racinos with the addition of slot machines to compete with the riverboats. Brick-and-mortar casinos were also legalized in the late 1990s. By 1999, the first mainland casino was open, and the first horse track became a racino in 2003. The industry grew quickly from there, attracting big names like Harrah's and Flamingo to the action.
Further, the federal Indian Gaming Regulatory Act of 1988 put Native American tribal leaders in a position to negotiate with the Louisiana state government for gaming compacts. During the 1990s, several tribes did just that and received permission to establish their own gambling facilities that are now competing casinos throughout the state.
Gambling in the Louisiana statutes comes with standard definitions, but there is a section that discusses internet gambling, though it seems to pertain to video poker and associations with riverboat gambling. The exact meaning is unclear, but it does note that gambling via the internet "embodies the very activity that the legislature seeks to prevent."
Further, it notes that gambling by computer is intentional and pertains to any game or contest in which a person risks losing anything of value "in order to realize a profit when accessing the internet, world wide web, or any part thereof by way of any computer, computer system, computer network, computer software, or any server."
Finally, the section notes the criminal implication:
"The provisions of this subsection shall not exempt from criminal prosecution any telephone company, internet service provider, software developer, licensor, or other such party if its primary purpose in providing such service is to conduct gambling as a business."
Most Recent Developments
While the above legal wording may sound suspicious or even dangerous, some lawmakers are ready to change that. Several legislators came forward in 2018 for the first time with legislation to legalize internet poker and casino games, daily fantasy sports (DFS), and sports betting.
The bills would ultimately put topics like online poker in the hands of the voters, as each parish would be required to vote yes or no to the question: "Shall internet gaming be allowed to be conducted within the parish of ___?"
All of the bills were put up for public discussion in an April 2018 hearing, at which time several legislators declared that they know little about online poker and casino games. While they were not objecting to the notion of it, many declared that they wanted more information and urged the sponsoring legislator to initiate a study in order to gather facts and figures. It remains to be seen if this will happen in 2018.
Since online gaming in general was set aside for the time being, Louisiana lawmakers also decided to delay DFS bills for much the same reason.
On the other hand, legislators are moving ahead with the sports betting bill which would allow sports betting from the state's existing racinos and tracks. Unfortunately, after going back and forth , lawmakers were unable to pass the sports betting bill on the last day of the current session. For now, lawmakers will not be back in session until next March. This is a long time and we are sure to see other states get on the action while Louisiana has to sit on the sidelines. Martiny will be out of office by next year so a supporter of the activity might be hard to find.
Louisiana Online Gambling FAQ
Can I play for real money on your recommended poker, gambling, and betting sites?
Most of our sites do offer internet poker, casino games, and sports betting options for players in Louisiana.
Does state law enforcement intend to crack down on internet gaming?
Louisiana does have the wording in its statutes to pursue legal action against some online gambling operators, but they understand it would take resources and time to battle in court in order to stop most sites from offering their services. It does not appear that the state is willing to take action at this time.
Should players be worried about a crackdown?
Even if Louisiana took the unusual steps to try to shut online gambling sites from the Louisiana market, there is virtually no chance that law enforcement would try to arrest or prosecute players themselves. It is time consuming and terribly bad press.
What if one of your recommended sites shuts down? Will I get my money?
The sites we work with have solid relationships with customers. Should a site be shut out of the Louisiana market, there will be notice given to players and time allowed to make transfers or withdrawals for full account balances. In the event that a site shuts down completely, there will also be ways that players can withdraw their rightfully-earned money.
How do I deposit and withdraw money from these sites?
Every site that we recommend has its own set of deposit and withdrawal methods available. It is best to consult any site of interest to find out what options are available. Most do offer debit and credit cards and ewallets for deposits, but withdrawals are usually done by check, though there may be other options. Many sites now have cryptocurrency options available for transfers to and from online accounts, as more players are using bitcoin and find it a very easy way to move funds online. Check with your favorite site to find out what works best.
Are there any land-based casinos in the state of Louisiana?
Yes. Land-based casinos are licensed by the state in the City of New Orleans and as well as on Indian tribal land. Below are the top casinos: