There is no wording in Maine laws that references online gambling or sports betting as legal or illegal.
Maine is part of New England, the northeastern section of the United States. It borders the Atlantic Ocean and New Hampshire, as well as the Canadian provinces of Quebec and New Brunswick to the north.
Maine's Best Real Money Gambling Sites
Casinos
Sportsbooks
Poker
Casinos
Sportsbooks
Poker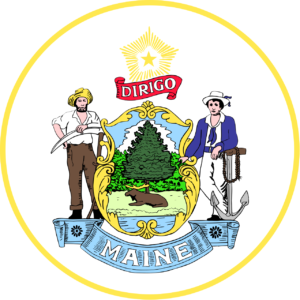 Maine Gambling Overview
Abbreviation: ME
State Motto: Dirigo. (I lead.)
Capital City: Augusta
Population Estimate: 1.3 million (42nd)
Website: https://www.maine.gov/
As far back as the early 1970s, Maine legalized the lottery. It was also an early adopter of bingo and other forms of gambling for charitable purpose, as well as off-track betting.
The race tracks in the state sought the ability to make some extra money in the early 2000s, and voters agreed to allow them to install slot machines. There are now two tracks – now known as racinos – operating in the state, one in Bangor and another in Oxford.
Meanwhile, the state was not keen on many other forms of gambling. When Congress passed the 1988 Indian Gaming Regulatory Act (IGRA), some of the Native American tribes in Maine wanted to negotiate gaming compacts. The state resisted for many years, but the Passamaquoddy Tribe continued to insist on its right to open a gambling establishment. They came closest in 2014 by working with lawmakers to create a bill for the legislature, but the vote never happened.
One of the counties in Maine is now considering building a casino if voters approve the referendum, but the Passamaquoddy Tribe and Penobscot Nation have vehemently opposed the project due to the state's unwillingness to allow them to build a casino.
There isn't much in the state's statutes about gambling, though it is clear in Title 8 of the statutes that illegal raffles, home-based bookmaking, and unlawful lotteries constitute criminal activities. It does state that anything not expressly legalized by Maine is illegal, though that section is rather vague.
Title 17 explains games of chance and the requirement for a license to operate them. The fee is very inexpensive and suited for social gaming and charitable groups, as are the limits of $10 entry fees and $1 maximum bets for any games of cards.
Poker is singled out as an exception to the games of chance law, as it should be included in the table games category. Beano and bingo are also excluded. Ultimately the definition of non-skill games is:
"A game, contest, scheme or device in which a person stakes or risks something of value for the
opportunity to win something of value; the rules of operation or play require an event the result of which is determined by chance, outside the control of the contestant or participant; and chance enters as an element that influences the outcome in a manner that cannot be eliminated through the application of skill."
Most Recent Developments
The only type of legalized online gambling that has been addressed by Maine lawmakers thus far has been daily fantasy sports (DFS). The "Act to Regulate Fantasy Sports Contests" to classify them as games of skill was passed by the legislators in both houses in 2017, and the governor did not sign it. But his lack of a veto authorized the bill into law on August 2, 2017.
It was the 15th state to legalize DFS.
The state has yet to consider any type of online poker or casino game proposal. However, legislation has moved fairly quickly for sports betting since the Supreme Court ruling. A proposal was made in January and then moved on to an amended version. The House used a verbal vote while the Senate took a roll call to verify the close vote in favor, of 19 to 15. Now the bill will be voted on yet again and hopefully it will be able to move forward so that the state of Maine will be set to offer legalized sports betting.
Maine Online Gambling FAQ
Can I play for real money on your recommended poker, gambling, and betting sites?
There are many sites that offer forms of internet gambling to residents of Maine.
Does state law enforcement intend to crack down on internet gaming?
Maine seems to give little thought of any kind to gambling. The idea that they might allocate money for its law enforcement teams to investigate and try to prosecute online gambling operators based outside of the US is very unlikely.
Should players be worried about a crackdown?
Maine is not likely to attack online gambling or sports betting operators in any way, but it is even less likely that individual players will be targeted.
What if one of your recommended sites shuts down? Will I get my money?
If a site decides to withdraw from the Maine market for some reason in the future, the site will still likely offer services to other states. This means the site will give ample time for players to retrieve their funds via withdrawals. Should a site shut down altogether, funds are typically set aside to pay all players with monies in their accounts, so there is no reason to believe players won't be paid what they are owed.
How do I deposit and withdraw money from these sites?
Each site has its own list of authorized deposit and withdrawal options. Many offer debit and credit cards and ewallets for deposits, though the primary form of withdrawal is typically a check by courier. The primary method that is used by many new players and that allows both deposits and withdrawals via the same account is bitcoin, the most popular form of cryptocurrency. Most of our recommended sites now accept bitcoin, but it is important to check with the site to be sure. And contact a customer service representative with any questions.
Are there any land-based casinos in the state of Maine?
Yes, there are a couple of land-based casinos throughout Maine. Here's a look at the two main casinos: